Breakbulk Europe returns to Rotterdam in 2023
26 October 2022
After the success of the first Breakbulk Europe 2022 exhibition in Rotterdam, the Rotterdam alliance has already started preparations for 2023. The Rotterdam alliance consists of the Municipality of Rotterdam, Rotterdam Port Promotion Council, Rotterdam Ahoy, Rotterdam Partners, and Port of Rotterdam Authority.
Breakbulk Europe is the largest exhibition for project cargo and breakbulk industry in the world and will again attract thousands of national and international port professionals to Rotterdam. It confirms the status of Rotterdam as the maritime capital of Europe. "Breakbulk Europe reflects our ambition to become the Breakbulk port of Europe and is a great boost for the breakbulk companies in the port," says Breakbulk Director Danny Levenswaard from the Port Authority. "Our motto is 'Bigger. Better. Breakbulk.' for a reason!"
Breakbulk hub
Throughput of breakbulk cargo in Rotterdam exceeded 6.9 million tons by 2021 and reached double digit growth (15%) during the first nine months of 2022. "Rotterdam is known for Its diverse portfolio, focusing on non-ferrous, steel and forest products and specialising in the heavy lift sector. We can handle any ship, of any size and any type. Which is why we are considered the most versatile cargo hub," says Levenswaard.
9,000 professionals 
All (inter)national visitors will again be welcomed in Rotterdam Ahoy, 6-8 June 2023.
Nick Davison, Portfolio Director Breakbulk & CWIEME, Hyve Group PLC: "We are excited to be working again with the Rotterdam alliance to create an  even more productive event with new business opportunities for all participants." 

The 2022 event was attended by more than 9,000  professionals from  118 countries. It is an expo for industry, offshore wind, oil and gas companies, carriers, ports, logistics companies, specialised freight forwarders and other related service providers.  For more information: europe.breakbulk.com.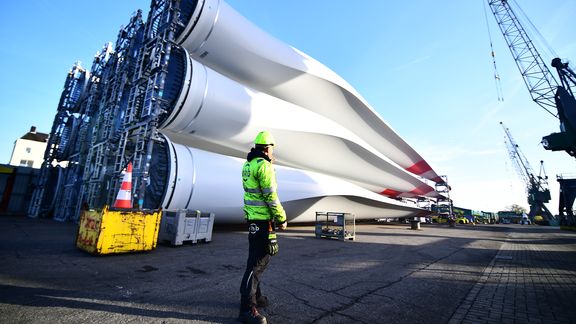 Levenswaard is looking forward to Breakbulk Europe 2023. "I will be there during the entire event, making contacts, and enjoying how Rotterdam presents itself. It will be three busy and productive days in Ahoy, the city and of course the port itself!"