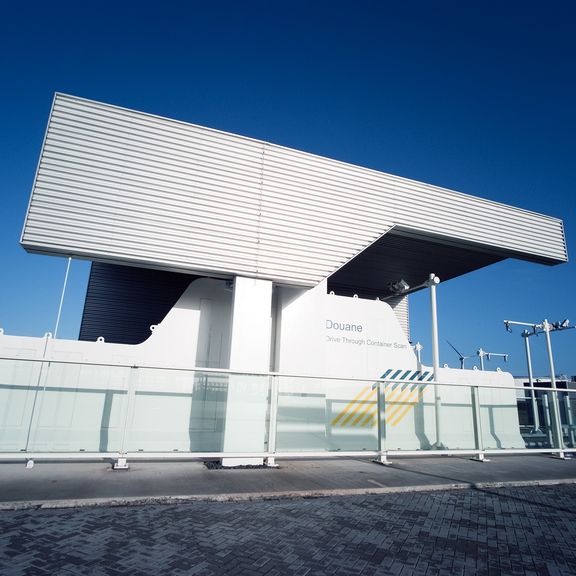 The Port of Rotterdam acts as the external border of the European Union, which means that, after clearance in Rotterdam, freight can travel freely through the EU member states. Customs is responsible for releasing freight that arrives or leaves Europe via Rotterdam. The Customs Administration of the Netherlands operates 24/7 and is known for being one of the most efficient customs administrations in the world.
Do you want to get in touch with Dutch Customs? Call 0800 0143 when you're inside The Netherlands. If you're calling from abroad, please call +31 (0)45 574 30 31.
PORTBASE
The Port of Rotterdam Customs Office aims to carry out the statutory checks with a minimal impact on the logistics process. The submission of the necessary documents for import and export by importers, exporters, freight forwarders, agents, shipping companies, terminals and transporters can take place electronically and from anywhere in the world via the Portbase Port Community System.
Checks with minimal impact
Customs uses risk analyses to determine whether inspections are needed. These are initially carried out via scans. There has been significant investment in recent years in high-tech scanning equipment at the terminals and the fastest train scan in the world. These scans mean that containers do not need to be opened unnecessarily. This guarantees cargo safety, reduces delays and cargo owners do not face any unnecessary costs.
Tax advantages for importing via Rotterdam
VAT needs to be paid on goods imported to Europe. In most EU countries, the payment of VAT must be made immediately on import. In the Netherlands, payment of this turnover tax (VAT) can be deferred until the time the VAT return is filed through the so-called authorisation article 23, which offers attractive cash flow advantages.
Get prepared for the Container Release Notice (CVB)
Stricter customs requirements for maritime cargo imported from outside the EU. The Netherlands will be changing the procedure for submitting subsequent declarations for goods imported from outside the European Union. On 1 October 2021, Dutch Customs will start on the phased introduction of a new customs requirement: the Container Release Notice (Container Vrijgave Bericht, CVB). The CVB requirement applies to containers, trailers, breakbulk and bulk cargo. Don't wait with taking action, and make the right choices to streamline subsequent declarations – by submitting an advance notification, for example. This way, you ensure that your cargo can still move swiftly and efficiently through the Netherlands' ports after the introduction of the CVB. Avoid delays – start preparing for the CVB today!
Logistics service providers and customs specialists
Organising the import and export of freight demands specific knowledge and expertise. A large number of logistics service providers and customs specialists operate in the Port of Rotterdam and can organise customs clearance and other affairs for you.