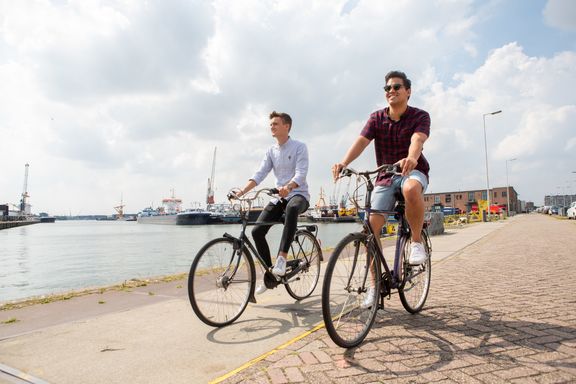 Walking and cycling
11 May 2021
Discover the port by bike or on foot. Dozens of trails take visitors past all the famous and lesser-known highlights of the port. The extensive natural area that is home to a variety of extraordinary animals and plants, and impressive industrial areas alternate across the entire port area.
The routes vary in length and are intended for people of all ages. Along the route, you will see impressive port areas and you will unexpectedly find yourself surrounded by lush nature. Combine a cycling or walking route with a visit to FutureLand for a nice day out. Go to Port Pavilion and get inspired on your exploratory expedition through the port, or check the Rotterdam Tourist App, which provides other fun tips too.
CYCLING THROUGH THE PORT
Use the ANWB Cycling Route Planner (Fietsknooppuntenplanner) to plan your own cycling route along the bicycle paths in the port area, which have a total length of over 175km. Only in Dutch.
Walking and cycling routes through the port
The port area provides marvellous walking and cycling opportunities. We share two of them with you (only in Dutch). More tips? Visit Port Pavilion.