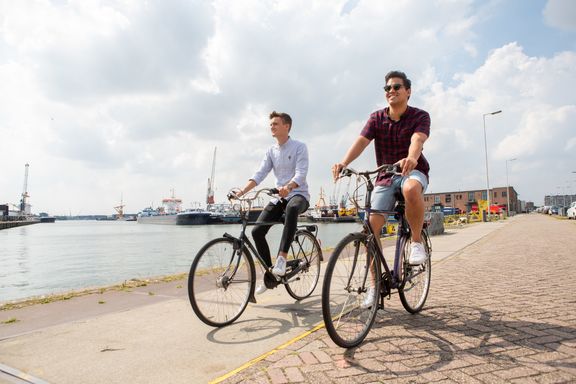 Walking and cycling
11 May 2021
Discover the port by bike or on foot. Dozens of trails take visitors past all the famous and lesser-known highlights of the port. The extensive natural area that is home to a variety of extraordinary animals and plants, and impressive industrial areas alternate across the entire port area.
The trails vary in length and are open to all ages. Combine your bike ride or relaxed stroll with a visit to FutureLand for a complete day out.
Information panels
What are the attractions the port has to offer? The information panels, which can be found at 26 locations throughout the port, will tell you. These information panels are packed with facts about the port in general, its rich history and your current location. The texts are provided in English and Dutch, and especially for the visually impaired the panels are also equipped with audio narration.
Spotting protected plants and animals
There is a surprising amount of wildlife in the port of Rotterdam. From wild horses and free-roaming Scottish Highland cattle to orchids. Seals and dwarf bats are quite common as well. You can even find protected species in the port, such as the natterjack toad and the yellow widelip orchid!