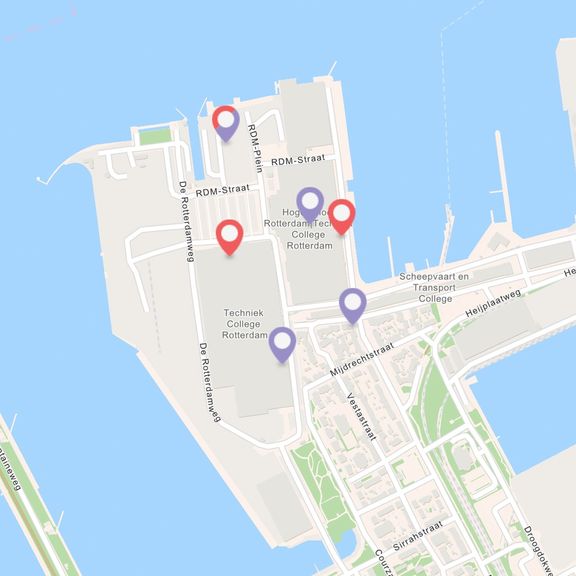 Waalhaven has undergone an impressive metamorphosis in recent years.
Start-ups, scale-ups, educational institutions, SMEs as well as global companies from the maritime and offshore sectors can be found in this unique environment.
The municipality and the port authority want to develop this area into an innovative living and working environment that is optimally equipped for the innovative manufacturing industry.
Searching for a site in the port of Rotterdam as a business location for your company? The port has many warehousing, commercial and office space options.
We are happy to assist you with:
Your search for suitable office and commercial space and other real estate in the port;
expert guidance during the start-up process;
flexible and temporary expansion.
Why in the port of Rotterdam?
when you set up in the port, you become part of an ecosystem and gain access to a large network;
opportunities to develop prototypes;
direct contact with education and access to talent and trainees;
access to testing facilities.
In our property tool you will find an overview of all available properties. Several areas are earmarked for development, such as Rotterdam Food Hub, Distripark Maasvlakte West, Waalhaven, RDM Rotterdam, Merwe-Vierhavens (M4H) and Dordrecht Inland Seaport.
Rotterdam Makers District
The Rotterdam Makers District consists of RDM Rotterdam and Merwe-Vierhavens (M4H). The added value of the Makers District lies not only in the physical space, but also in a business climate that stimulates and strengthens cooperation and entrepreneurship. The aim is to create a community of successful and innovative entrepreneurs. This community is integrated into a broader innovation ecosystem of companies, knowledge institutions, funding sources and prototyping and testing facilities, contributing to the energy transition and the new economy.
HET MAGAZIJN
Het Magazijn at RDM Rotterdam is a small-scale complex of a total of 4 business spaces of 1000 m2 each, including 4 office spaces of 120 m2 each, with spectacular views of the Nieuwe Maas.