Innovatie
Stadshaven Brouwerij Rotterdam opens autumn 2020 in M4H
22 January 2020
Stadshaven Brouwerij Rotterdam to open in the former port warehouse on Merwehaven at the end of this year. The Brouwerij will also accommodate a restaurant operated by Bierfabriek. Stadshaven Brouwerij has a starting capacity of 20,000 HL (2 million litres of beer) per year and will be brewing new beer types in addition to the three existing beers. This makes the brewery the largest in Rotterdam and one of the larger craft breweries in the Netherlands. The opening of this brewery, planned for October 2020, will contribute to the area's vibrancy and social dynamics.
The location of the brewery fits in the Port of Rotterdam Authority and Municipality of Rotterdam's ambition to transform Merwe-Vierhavens (M4H) into an attractive new residential and working area. Former fruit warehouses here are being kitted out for the new generation of manufacturers that use new technologies including digitisation, robotisation, additive manufacturing and material science. Together with RDM Rotterdam - on the site of the former Rotterdamse Droogdok Maatschappij and these days a flourishing innovation hub - M4H forms the Rotterdam Makers District: an energetic area with a mix of opportunities for working, living, culture, eating out, sports and education.
M4H: Future in the Making
The Merwe-Vierhaven area (M4H) is a former port site and industrial area of approximately 130 hectares to the north of the Maas. It was once one of the largest fruit ports in the world. Moving the port activities elsewhere in the port has created space in M4H for new activities.
New manufacturing industry brings together the city and port economies and contributes to the expansion and sustainability of both. It provides a boost to the region's capacity for innovation and creates new employment. M4H is made for this. There is plenty of space. The universities and the inner city are just around the corner. Pioneers and new companies with links to the port find the conditions just right for setting up their businesses here. Innovative manufacturing industry flourishes in a vibrant city environment full of places to eat and drink, educational institutions and a rich culture.
Bierfabriek to Rotterdam
Combining a brewery with dining is a Bierfabriek initiative. Bierfabriek started in 2011 as a combined microbrewery and restaurant. After Amsterdam, Delft and Almere, the Rotterdam location is the fourth establishment. In each site there is a microbrewery in the heart of the restaurant, where top fermenting special beers are brewed traditionally. Guests can tap their own beer and many typically eat the signature dish of charcoal-grilled chicken.
Bierfabriek Director Harm van Deuren: "It's a long-cherished ambition of ours to open a Bierfabriek in Rotterdam. As owners we decided in early 2018 that we'd really like our next establishment to house a larger brewery. The current three microbreweries only brew beer for their own premises and we can't fill any bottles or casks there. We wanted to see if we could kill two birds with one stone: we started searching for space for a large brewery and one preferably in Rotterdam. We found a stunning former fruit warehouse of 5,000 m2 on Gallileïstraat in Merwe-Vierhavens (M4H). In the coming 10 years, this whole area will be developed into a residential and working area and we'd like to contribute to that".
New brewery, new beers
The hypermodern brewery will be delivered turnkey by Braukon, a leading brewery manufacturer from South Germany. Stadshaven brewery will have a comparable capacity to that of successful craft breweries including Jopen, 't IJ and De Molen and will be able to fill beer by the bottle, cask or can. As well as the existing Bierfabriek beers (a Blond beer, Amber and a Porter) the range is being further expanded with distinctive and yet accessible new beers.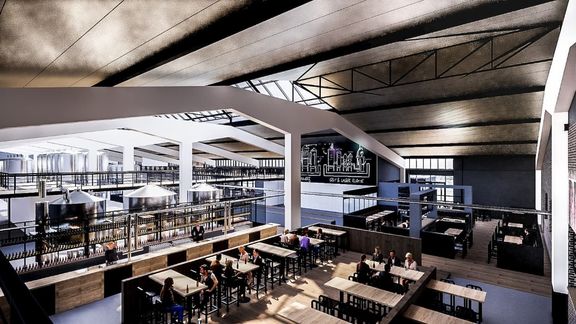 New team members
Bierfabriek is investing approximately 7 million euro in the Rotterdam brewery, transforming this small catering chain into a leading brewery with four of its own restaurants. For this step, Bierfabriek was seeking new staff to join the team. Rotterdam resident Reinier Schipper, former CEO of United Dutch Breweries (UDB), has joined the business. Reinier: "When I heard about this initiative, my Rotterdam beer heart started beating faster. I think it's great that there'll be a real Rotterdam brewery on this site again. I started my career in a Rotterdam brewery, and I've now come full circle; I'm really looking forward to working hard to make a success of this in the coming years." Master Brewer and Rotterdam resident Wesley Aarse will be leading the brewing team. Since he graduated from HAS in 's-Hertogenbosch in 2011, he has worked at various craft breweries throughout the Netherlands.