Innovation
A hyperloop in Rotterdam by 2030
17 February 2023
Source: Rotterdam Makers District
In 2050, we will live in a world where distance no longer matters. A world in which everything is within reach. In which you can travel from Rotterdam to Berlin in 1 hour and 40 minutes, without any stops. And all this without any CO2 emissions.
The mission of the recently established Hardt Hyperloop in the Rotterdam Makers District is ambitious, but serious steps have already been taken. We spoke to Tim Houter, co-founder of Hardt Hyperloop and entrepreneur in the Rotterdam Makers District.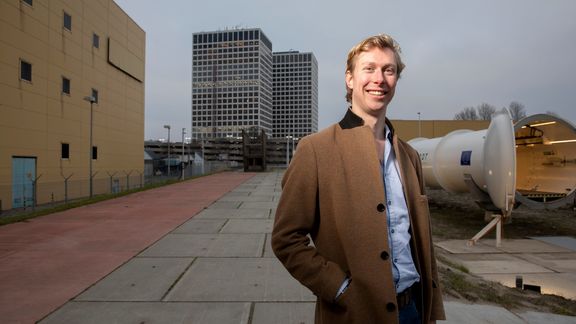 The hyperloop
Hardt Hyperloop is progressing with great strides. Since 2017, the startup founded from TU Delft has been developing a hyperloop system for Europe. But what exactly is a hyperloop? Tim gives a clear explanation: 'The hyperloop allows people and goods to be transported through a low-pressure air tube by a vacuum train. The means of transport is magnetically driven. This ensures lightning-fast and completely CO2-free transport. Eventually, the hyperloop will allow you to travel across Europe as if it were one big, interconnected region. In a fraction of the time and energy consumption it takes now.'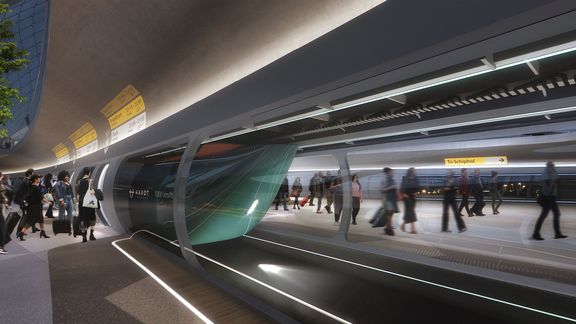 Carriage of goods
The hyperloop would have great advantages, not only for transporting people. It also provides a solution to the growth of transport we know is coming. It is currently estimated that the carriage of goods will increase by a factor at 2.5 by 2050. To comply with this demand, initiatives like the hyperloop are badly needed. That is also the opinion of Dirk Koppenol, strategist at SmartPort, the knowledge hub at the port of Rotterdam: 'These kinds of radical innovators are crucial to the innovative power of the port of Rotterdam, now and in the future. Parties like Hardt Hyperloop are an inspiration for the future.'
From idea to implementation
If it is up to the ambitious Hardt Hyperloop, the hyperloop network should connect the whole of Europe by 2050. It will not be due to lack of commitment from the everyone at the company who are putting an incredible amount of passion into it. In the space of five years, the team grew from four founders to a company of almost 50 people. From an idea they want to change the world with, to a technology that is proven to work and successfully tested. And all from the Rotterdam Makers District, which consists of the areas RDM Rotterdam and Merwe-Vierhavens (M4H). With a test setup at the Future Mobility Park in M4H and their own experience centre, the first real hyperloop is getting closer and closer. How did this adventure start?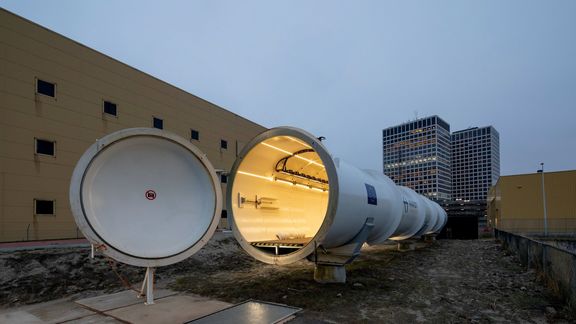 SpaceX pod competition
While studying at TU Delft, Tim was part of the Formula Student Team Delft. A team that designs and builds electric racing cars. This is where Tim got to know the other founders. 'While we were competing in the race car competition, Elon Musk came up with his hyperloop idea. We immediately said to each other: this could change the world. When the SpaceX pod competition was announced shortly afterwards, we knew: we want to win this competition. Our experience in building electric racing cars enabled us to achieve high-quality technological results in a very short time. We won the competition and that was a wonderful start for Hardt Hyperloop to start building further success.'
Make it happen
As of recently, these successes are achieved from Rotterdam, since Hardt Hyperloop has been based in the Rotterdam Makers District since late 2022. 'We were looking for a place in the Delft area from which we could not only work, but also create. With the slogan "Make it happen", Rotterdam seemed a good fit. Just get on with it and fix it. We felt the connection. We also noticed that Rotterdam was very willing to cooperate with us and make our initiative big here.'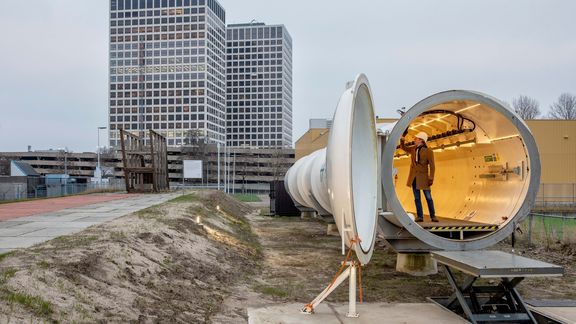 Experience Centre
Not only Hardt Hyperloop's brand-new office is located in the Science Tower in M4H. In cooperation with the municipality of Rotterdam, they built their spectacular experience centre in the same space, which was recently opened by Mayor Aboutaleb. 'That was an incredible moment. We were so honoured. In the experience centre, we familiarise visitors with the hyperloop at a glance. We plan to open the experience centre to the public a few times a year. Anyone interested can then see how the hyperloop works and what it can do for the world. It's the place where it really comes alive, where you can experience it.'
Future Mobility Park
Another place where you can experience hyperloop technology can be found around the corner at the Future Mobility Park. It houses a 30-metre-long test setup. 'The test setup allows us to demonstrate the entire concept of the technology. This makes huge impact because it allows us to show that the technology really works. And that the hyperloop is way past the stage of an idea. Of course, it is super convenient that this is just around the corner. We also work together with Platform Zero. They are located practically next door to our building. Together, we want to put Rotterdam even more on the map for companies playing an important role in the energy transition.'
Diversity and interaction
These kinds of partnerships between different parties in the Rotterdam Makers District is the area's strength. Saskia Mureau of the Port of Rotterdam Authority also realises this. 'The diversity and type of innovation within the Rotterdam Makers District are enormous. The ambition is very high and the interaction between the different organisations really moves them forward. Hardt Hyperloop is an inspiring example thereof. They show vision and guts. This is also very much in line with what we want to project as a port.'
Innovation Dock
Testing is done by the ambitious startup in its workshop in the Innovation Dock at RDM Rotterdam. 'Designing is done in the office. Our team in the workshop in the Innovation Dock spends all day testing those designs. We build all kinds of different test setups there for the different systems. We also show this workshop regularly. This, of course, is where it really happens. With the office, the experience centre, the test setup in M4H and the workshop in the Innovation Dock on RDM Rotterdam, we now have a complete cluster together to take even bigger steps.'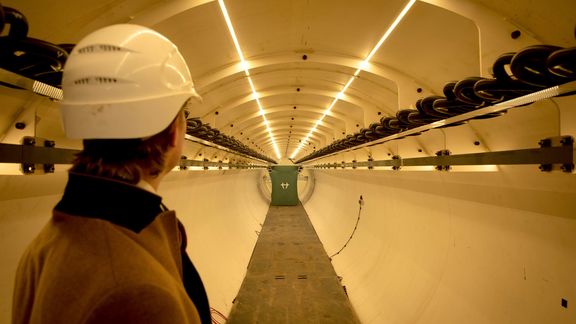 The next step
What are these steps? If it were up to Tim, we could try out the first real piece of hyperloop in Rotterdam in 2030. Where and how exactly that will happen remains a surprise for now. 'We receive a lot of support from the Dutch government. The European Commission also pledged a large investment last year. We are receiving support at more and more levels. From local to regional and national to global. The cooperation with the municipality of Rotterdam is a very important one in this. Rotterdam has the chance to start the roll-out. Everyone in the world who wants to see how the hyperloop works will come here to try it out. That will really puts the Rotterdam Makers District on the map.'