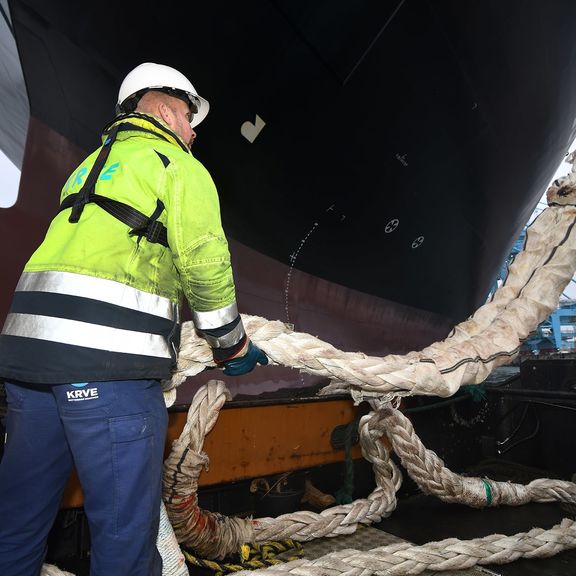 Port Call Optimisation
14 June 2021
Each year, around 30,000 ocean-going ships call at the port of Rotterdam. Chain efficiency and optimisation start with clear communication. All the links in the chain must speak the same language. In a complex environment such as maritime transport, miscommunication can quickly lead to disruptions.
Maritime shipping has existed for around 5,000 years, but until recently every link in the chain used its own jargon. The lack of standards can lead to the suboptimal planning of arrival times and loading. Global market players such as CMA CGM, Maersk, MSC, Oldendorff Carriers, Shell and their agencies, as well as ports such as Algeciras, Auckland, Busan, Gothenburg, Hamburg, Houston, Ningbo Zhoushan, Rotterdam, Singapore and Tanger Med, are involved in the International Taskforce Port Call Optimization (ITPCO). In this taskforce, all types of shipping, together with ports, are embracing standards from the maritime and logistics sectors. Exchanging data based on these standards creates an opportunity for improvement.
PortXchange
In 2018, the Port of Rotterdam Authority was the first to launch a communication platform based on the standards recommended by ITPCO. That platform is called PortXchange. Because all the parties involved in the port call share their planning schedules with the PortXchange platform, an overall picture is created of the shipping traffic entering and leaving the port. In this way, the parties can coordinate all the activities such as mooring, loading & unloading, bunkering and speed of ships with each other as much as possible. The platform issues automatic notifications when there are changes in the schedule.
Just In Time Arrival Guide
Port of Rotterdam provided input and support for the Just In Time Arrival Guide published by the International Maritime Organisation (IMO). This guide offers the port and shipping industries practical guidelines on how to set up and manage Just In Time Arrivals (JIT). JIT Arrivals are widely recognised as a means of making ports more efficient and further optimising the port call process. The concept is based around the idea that the vessel can maintain an optimum operational speed so that it arrives at the pilotage point when availability is guaranteed. Its successful introduction could have a significant impact on the environment by reducing greenhouse gas emissions.
More information? Contact:
Damian Gonsalves
Port Call Optimisation Lead Business Development Digital