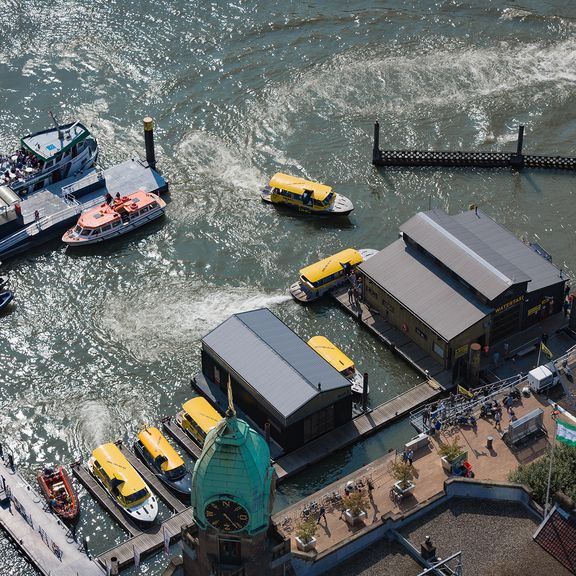 Waterborne transportation
Have you ever considered getting to your destination by water instead of taking the bike, bus or car?
As a port city, Rotterdam obviously has an extensive network of shore-to-shore connections. Avoid traffic jams or simply enjoy a trip in a Water Taxi or Waterbus and get to know a new side of the port!
Plan your route on the water
There is an extensive network across the Rotterdam waters, provided by various service providers. Check out the possibilities for your trip!
Water taxi
The classic wooden boats of the water taxi service operate between Hotel New York, the Veerhaven and the Leuvehaven. Modern, super-fast water taxis also sail on the River Maas; they are recognisable by their blue and yellow livery. The Waternet jetties along the river ensure you can get off at many locations.
Waterbus
The Waterbus's frequent scheduled services allow you to travel in comfort, without traffic jams, between Rotterdam, the Drecht towns, Ridderkerk, Krimpen a/d Lek and Kinderdijk. The Waterbus also operates between the stops Rotterdam Erasmusbrug, St. Jobshaven and Heijplaat-RDM and also sails from Katendrecht.