Celebrate summer in FutureLand
03 July 2018
Enjoy delicious products from the North Sea during a trip through the ports of Maasvlakte 2, or go on a fossil expedition with the whole family. Children can join in a fun and informative tour and various craft workshops. There's also a new exhibition about the deepening of the Nieuwe Waterweg. Combine a visit to FutureLand with a treasure hunt at Maasvlakte beach this summer.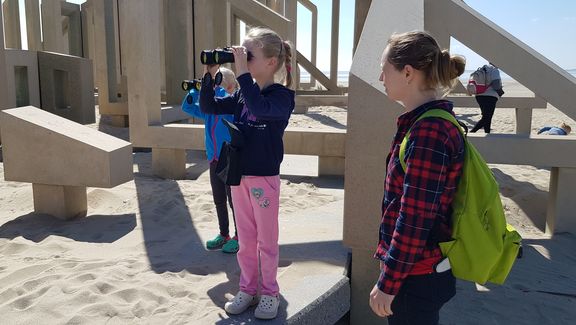 On Saturday, 4 August during a trip through the ports of Maasvlakte 2, enjoy delicious products from the North Sea prepared by New Fork restaurant. Sail through Europe's most cutting-edge port area while enjoying a fresh fish lunch or dinner with oysters, herring and mackerel. The world's largest container ships are berthed here. While on board, an experienced guide will tell you the complete story of Maasvlakte 2.
Programme 4 august
Lunch sailing from 12.00 noon to 1.30 pm.
Dinner sailing from 6.00 pm to 7.30 pm.
The price for lunch including 1.5-hour boat trip is € 32.50 per person and €15.00 for children up to 11 years. The trip is free for children under the age of 2. The price for the dinner trip is € 47.50 and €20.00 for children up to 11 years. Children under 2 years can join the trip for free.
Fossil expeditions
Beach excursions are being organised during the summer holidays, led by experienced fossil explorer, Walter Langendoen. On Maasvlakte beach, Walter explains all about searching for archaeological and paleontological treasures. Walter searches for fossils on Maasvlakte beach every day. His collection of thousands of finds includes fossilised hyena droppings, mammoth bones, vole teeth and much more.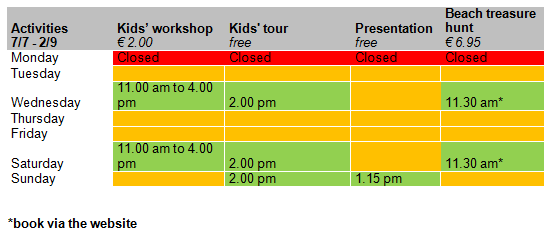 Visual artist and art teacher Joanna Smolarz (Kunstatelier het Kruithuis) will be offering various workshops for children during the summer holidays. She will be using various techniques including watercolour, acrylic, pencil and felt tips to paint stones that she collected on Maasvlakte beach. She will also be teaching how to make little clay marine animals and there's an opportunity to paint on canvas.
Practical information
Costs are € 2.00 per workshop. Equipment and supervision are included. The workshops are being offered on Wednesdays and Saturdays between 11.00 am and 4.00 pm. It's possible to join the workshops at any time.
Kids' tours
Young visitors and their parents/guardians can join in a fun and active kids' tour every Wednesday, Saturday and Sunday. The tours start at 2.00 pm with a short, funny film. Then the children and parents/guardians can get started with a treasure hunt of discovery in FutureLand. The treasure hunt is offered at two levels: for children aged between 6 and 9 years and for children from 10 years. It's free to join the kids' tours and there is no need to book.
Detectives sought!
Travel to Maasvlakte beach with the FutureLand Express and join a treasure hunt with the whole family. Go on expedition to the beach and dunes with explorer Walter Langendoen. Discover the animals in the port and learn about the companies that operate in the area. Maybe you'll even see a seal or traces of a sand lizard!
Practical information
The expedition including treasure hunt and bus transport costs € 6.95 per person. For more information and bookings, visit www.futureland.nl. Don't forget your binoculars.
Nieuwe Waterweg Exhibition - From deep to deeper
The official go-ahead was given for the deepening of the Nieuwe Waterweg and the Botlek in March. Rijkswaterstaat and the Port of Rotterdam Authority have joined forces to ensure that sea-going vessels with a draught of 15 metres can also reach the Botlek port. This means that 50% more cargo can be transported, which is good for Rotterdam's competitive position. The project comprises the deepening of the Botlek and - over a distance of 25 kilometres - the deepening of the Nieuwe Waterweg, the Scheur and the Nieuwe Maas.
Visitors to FutureLand can learn more about this extensive project in the 'From deep to deeper' exhibition. In the heart of the port, they will experience first-hand what is involved when 5 million cubic metres of dredged material is released at the large-scale deepening. Make sure you don't get wet feet!
Visit FutureLand from Hoek van Holland by water
There is a service from Hoek van Holland to Maasvlakte by water. RET will take you to Maasvlakte by Fast Ferry in an hour. En route you can see all the container terminals, sea-going vessels and seals. See website for times and prices. You can take your bike and cycle to FutureLand from the disembarkation point in just 20 minutes.
Take a trip through the port's history to FutureLand
There is also a weekly service on Sundays by luxury coach from Rotterdam CS and Willemsplein, Rotterdam. En route you'll see the port pass you by and once at FutureLand you can take an extensive boat trip through the new ports. See www.spido.nl for the programme, prices and departure times.
About FutureLand
FutureLand is accessible for young and old, enabling you to experience the port of the future. FutureLand lies at the heart of the Port of Rotterdam and offers views across Maasvlakte 2 in development. The information centre is open from Tuesdays to Fridays and on Sundays.
FutureLand is open every Saturday from 1 May to 1 October 2018. Entrance is free. The FutureLand Express and FutureLand Ferry are available throughout the year for tours and trips through the new ports. In the ANWB Most Fun Day Out competition 2017, the information centre was voted the second most fun outing in South Holland. Check the annual programme on www.futureland.nl.
Address FutureLand:
Europaweg 902, 3199 LC Maasvlakte, Rotterdam port number 8360