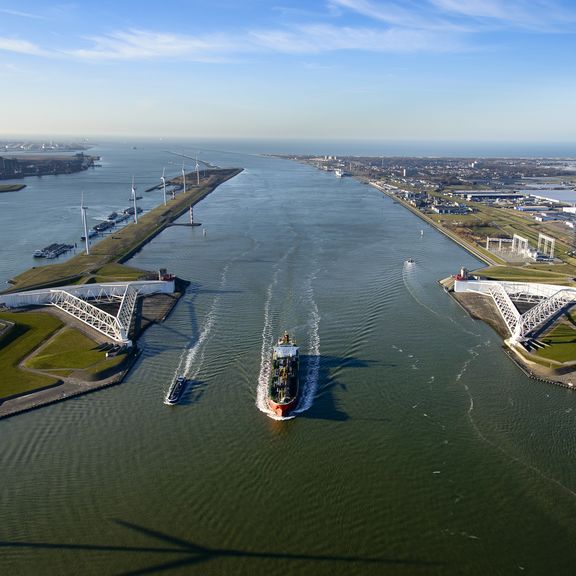 Veiligheid
Flood Risk Management
Prepare for flood risks
11 May 2021
We are committed to ensuring that the port and its environs are safe, healthy and appealing. We aim to counter climate change while ensuring that the port area makes a significant contribution to Dutch prosperity and employment.
The risk of flooding will rise in the Port of Rotterdam and the surrounding areas over the decades ahead as a result of climate change, and in particular the rise in sea level. Current climate scenarios foresee a sea level rise by 2100 of between 35 and 85 cm compared to 1990. The great economic significance and the presence of essential and vulnerable functions in the port area mean that research into the consequences is desirable.
The area inside the dykes is protected by a network of dykes and barriers. This does not hold for the areas outside the flood defence system. Here, residents, businesses and the owners of assets are themselves responsible for taking measures to limit the consequences from flooding and for any damage that results from this.
We are a flood-resistant port
While the Rotterdam Port Area lies largely outside the flood defence system and in open connection to the North Sea, it is currently well protected against flooding. The port area has been constructed well above sea level relatively speaking and is partially protected by storm surge barriers. Only under very extreme weather conditions would a small number of companies possibly suffer flooding. This has never happened in the port to date.
Adaptation Strategy
In order to ensure that the port area remains flood-resistant in the future, we are looking into possible flood risks and how we can prevent or manage this to an acceptable level. The programme aims to increase the awareness and sense of personal responsibility of users in the area. In considering various climate change scenarios, we are developing an adaptation strategy for coping with flood risk in collaboration with the Municipality of Rotterdam, other governmental organisations, companies and Deltalinqs. We are mapping out the probabilities and consequences of flooding, weighing up the risks and listing and selecting appropriate measures.
How high does the water rise?
You will be able to see on the Rotterdam high water map how high the water could possibly rise at a predicted water level. For the water levels in the port area, please use the Rijkswaterstaat map. You will also be able to call up the height of the ground around your business premises.