The Europoort is an industrial and port area in the port of Rotterdam. Together with the other ports of Rotterdam, it forms one of the largest (petro)chemical industrial areas in the world.
In the Europoort, among other things, crude oil is processed into various oil products. Because the tank terminals are located directly on deep water and Rotterdam has no obstacles due to locks or tides, even the largest oil tankers can use Rotterdam. Crude oil is transported efficiently and safely to the refineries, at home and abroad, via an extensive network of pipelines. Rotterdam therefore plays an important key role in the (petro)chemical sector.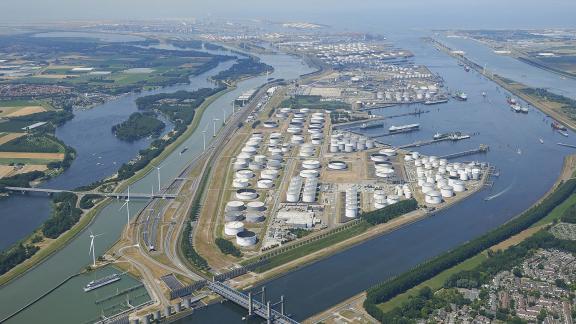 At the end of 2018 the risks of flooding and consequences have identified for the Europoort. This research has now been completed and, like the other areas, an adaptation strategy has been produced.
Adaptation strategy
The adaptation strategy also comprises three types of measures, or a combination of these:
Preventive Measures
Reducing the risk of flooding, for instance by introducing wave-breaking measures and raising the Tuimelkade.
Spatial adaptation
Managing the risk of flooding by preparing sites and assets for a flood disaster. For instance, vulnerable electricity substations can be made water resistant through dry flood-proofing or placing these on a raised construction.
Crisis Management
Taking and implementing crisis management and disaster management measures in time. This concerns formulating emergency, area emergency, repair and crisis management plans so that a flooding event can run its course in a managed and controlled way, and functions and processes can be restarted again quickly. Due to interdependencies in the researched areas this will need to be coordinated with companies in Botlek and Maasvlakte.
Regarding flood resistance in the area inside the dykes, there are also sectors in which the risk of flooding between now and 2100 remains acceptable. For these areas the recommendation is to include flood risk management in investment decisions for new developments and in investments for replacements and major overhauls, to ensure that assets and/or the sites become increasingly flood-resistant. This could include measures such as wet or dry proofing of vulnerable capital-intensive assets. This will increase Europoort's flood resistance and will safeguard flood risk management, even in the case of extreme climate scenarios.
Safety
The port of Rotterdam aspires to be the safest and most efficient port in the world, and is working on this ambition constantly. This requires close cooperation, to promote which the port undertakes various activities.