Europoort, with the other ports in Rotterdam, makes up one of the world's largest chemical and petrochemical industrial areas.
One activity here is the transformation of crude oil into a range of oil products. Those products are stored in huge tanks. Because the tank terminals are located directly alongside deep water and there are no obstacles in Rotterdam because of locks or tides, Europoort can accommodate the very largest oil tankers. Crude oil is transported efficiently and safely through an extensive network of pipelines to refineries, both in the Netherlands and in other countries. Rotterdam therefore plays a key role in the chemical and petrochemical sector.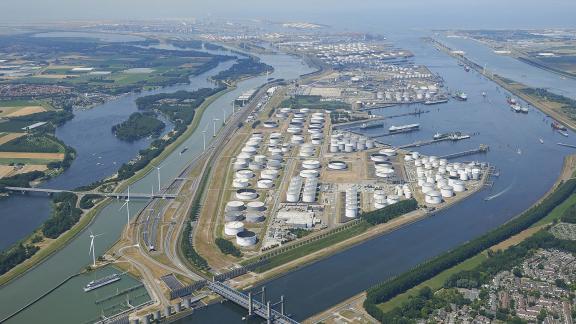 An adaptation strategy with measures to safeguard flood protection in the future has been produced for the Europoort.
Adaptation strategy
The adaptation strategy consists of three types of measures or a combination of those measures:
Preventive Measures
Reducing the risk of flooding with, for example, wave attenuation measures and by raising the Tuimelkade.
Spatial adaptation
Managing flood risks by adapting sites and assets to cope with floods. For example, vulnerable electricity substations can be made flood-resilient by dryproofing the stations or building them on higher ground.
Crisis Management
Developing and implementing crisis management and emergency-response measures in good time. The focus here is on the drafting of emergency, recovery and crisis management plans. This makes it possible to control and monitor floods, and allow functions and processes to restart quickly. Because of the interdependence between the areas studied, this requires coordination with businesses in the Botlek and Maasvlakte areas.
There are also specific areas where the flood risk will continue to be acceptable between now and 2100. The recommendation is therefore to include flood risk management in decisions about new developments, replacement investments and major maintenance to make assets and/or the site more flood- resilient. For example by wetproofing or dryproofing vulnerable and capital-intensive assets. In this way, the Europoort will be made increasingly flood-resilient and flood protection will be safeguarded, even in more extreme climate scenarios.
Risks and measures
Check your flood risk and the measures needed to protect your business.