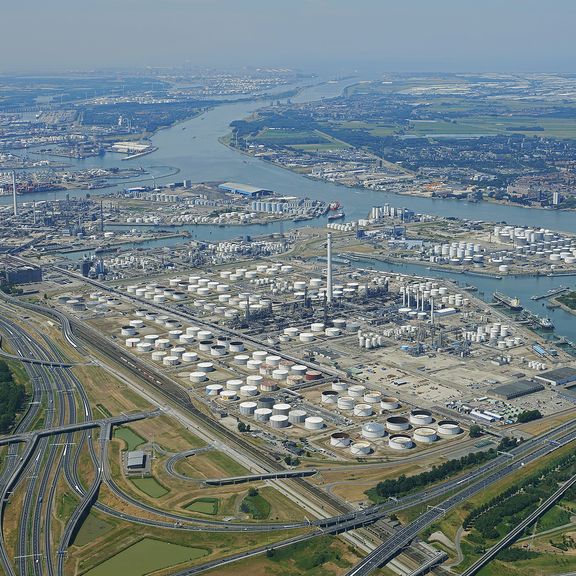 Botlek and Vondelingenplaat
The Botlek and Vondelingen area is an area of great economic importance at regional, national and international level. Many chemical and petrochemical companies are based here, and it forms a hub for many supraregional economic activities with hinterland connections via rail, road and water.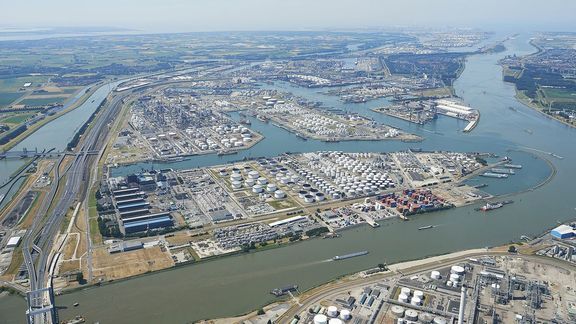 An extensive network of pipelines provides a safe, efficient and environmentally friendly transport solution for liquid bulk, including crude oil and oil products. Pipelines link companies in the port, and the port is also linked by pipeline to important destinations in the Netherlands, Belgium and Germany.
Europoort Barrier
The Maeslant storm surge barrier is located near the Botlek area. In combination with the Hartel storm surge barrier and the Rozenburg diked area, it makes up the Europoort Barrier. When water levels are high (NAP +3 metres and higher), the barriers are closed, protecting the hinterland and part of the port area. The failure probability for the Maeslant barrier is 1:100. This means that, statistically speaking, the barrier will fail to close one time in a hundred on average, for example because of a technical malfunction.
The open connection to the sea from the Hartel Canal and the Caland Canal affects flood risk management. Should seawater levels rise to extremes in the future,, the water is able to flow into the Botlek area through these canals. That could result in damage to businesses and vulnerable infrastructure.
The Tuimelkade is located alongside the Hartel Canal. It was built in 1996 when an open connection was established between the Hartel Canal and the sea. The Tuimelkade provides additional protection for the Botlek area.
Results
The results show that in the event of possible flooding, the damage will be primarily economic. This consists mainly of direct damage to buildings, systems and other facilities, and of indirect damage resulting from business operations being shut down and/or the infrastructure present not being optimally available for use. The probability of environmental damage is limited, and casualties are neglectable.
The indirect damage will in some cases extend outside the area. There is not only considerable overlap and interdependence between the various activities in the Botlek area, but also with the surrounding port areas and beyond, for example in the Schiphol and Chemelot regions. The economic damage will depend largely on where the flooding occurs and the type of company. The study has come up with a recommended adaptation strategy that consists among other things of preventive area measures, development of new sites in a climate-proof way and emergency plans to the scale of the company and area. 
Risks and measures
Check your flood risk and the measures needed to protect your business.