An accessible port
Co-operation in the container chain increasingly fruitful
24 January 2023
Since the congestion problems at Rotterdam's deep-sea terminals in 2017, much has been done to better streamline container transport by inland vessel to and from the hinterland. In addition to the development of integrated planning through Nextlogic, joint scheduled services, combining volumes and a network approach lead to more stability in the chain and a more reliable service to inland shipping customers. "Let's jointly build on these successful initiatives" is the sentiment that can be heard from the inland shipping sector and the port of Rotterdam.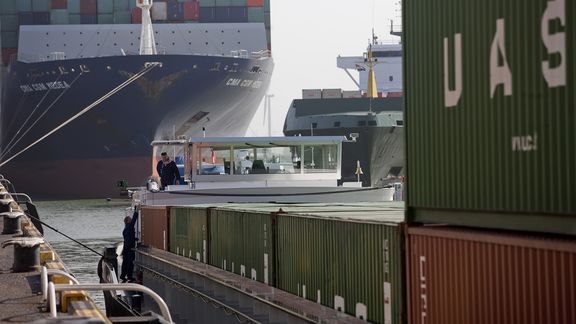 Container logistics, nevertheless, remains challenging. Over the past two years, the world has faced developments no one could have foreseen. The corona pandemic and the Ukraine war caused solid shocks in the supply chain. Both deep-sea and inland terminals were again quite filled with containers in recent months. Recently, the terminals seem to have regained some air. Nevertheless, it remains important to improve the flow of goods.
The strength of partnerships
Recent developments did make very visible how important inland shipping is for supplying European consumers and industry. The inland shipping sector has taken big steps to increase its reliability in recent years. Thijs van den Heuvel, Operational Director of Combi Terminal Twente (CTT), emphasises the strength of the collective: "Fixed windows and concepts like the Barge Transferium Maasvlakte (BTM – a collaboration of more than 20 inland terminals with ECT) bring peace to the chain and provide stability for planners, operators, and clients. Partnerships are inevitable these days. You see this in aviation too; collective agreements are made at airports. Open and transparent."
Bus system
"Combining container volumes and co-operation are also important deeper into the hinterland to make inland shipping more efficient," according to Heiko Brückner. "This is the only way to come up with smart concepts together with deep-sea terminals in the port," says Brückner, CEO of Haeger & Schmidt Logistics. "Just like buses, inland vessels must operate on a fixed schedule to be reliable. Otherwise, clients will opt for road transport. We must continue to work towards a type of 'bus system' with full barges. Combining volumes on large inland vessels also requires hubs along the Rhine. That's something you must try to achieve together. As Haeger & Schmidt Logistics, together with EGS and Contargo, we set up the Container Allianz Niederrhein (CAN) corridor between the inland terminals in Emmerich and Neuss and the deep-sea terminals in Rotterdam. This corridor approach works well. We are also seeking partnerships elsewhere, such as on the Upper Rhine (C3C) with Danser and Ultra Brag."
Fixed agreements
BCTN, a network of 11 inland terminals in the Netherlands and Belgium, has had agreements with Rotterdam's deep-sea terminals on fixed windows since 2018. This works well, according to CEO Joop Mijland. "We transport some 500,000 containers a year. Most of this volume falls within fixed windows. From our consolidation hub in Alblasserdam, we sail large, full barges to the deep-sea terminals rather than making a 'milk run' through the port of Rotterdam. These vessels can make 250 to 350 movements within one fixed window. That is exactly what deep-sea terminals want.'
All Rotterdam deep-sea terminals are connected to one of the terminals in the BCTN network by a scheduled service. The network approach and combining volumes in Alblasserdam have been successful. Mijland: "Alblasserdam is the last terminal close to Rotterdam for us to optimise barges. The terminal is open to third parties, and they use it. Some Rhine operators, for example, are combining their volumes both in Nijmegen and Alblasserdam to improve their deep-sea service."
Nextlogic
The chain partners are committed to more digital co-operation. Through Nextlogic, integrated planning is being developed for all visits by inland container vessels to the port of Rotterdam. This is a standard service per January 2023. For planning purposes, barge operators submit their rotation, visit and cargo information to Nextlogic prior to each visit.
The container terminals and, eventually, also the empty depots do the same for their available handling capacity. Based on this, Nextlogic creates an optimised schedule for everyone, which dynamically adjusts to the current situation every 15 minutes and considers, for example, fixed windows. All major deep-sea terminals are either already participating or joining soon. The latter also applies to many empty depots. Some 60 per cent of the total inland shipping volume is already scheduled through Nextlogic.
Collective implementation
BCTN is working with Nextlogic to improve the planning of calls with smaller container volumes, which together with the fixed window agreements should lead to integrated planning for inland container shipping in the port. Mijland does, however, still see potential for improvement: "It is now often still difficult to be included in the port's integrated planning scheme. When we request a call through Nextlogic, we receive feedback that does not always match the request for time slots for our vessels. Timely feedback, without last-minute changes, is important to us, so that we can deploy our vessels in the most efficient way."
According to Van den Heuvel, it would be useful for all chain players to start working with Nextlogic. "But we're not there yet, partly due to the large variety in the type of users. Sometimes, that's difficult to bring together. Moreover, it can be quite daunting to 'hand over' your planning to a computer system, as for a hinterland operators, it's part of the primary process. The business case based on costs and benefits must be made by everyone individually, partly because a fee will be charged for its use. Still, we need to take this up together in the chain and be willing to share information openly. Better coordination on available capacity creates obligations to each other, which leads to more flexibility and increased reliability."
Chain transparency
Haeger & Schmidt Logistics also contributes to data-based chain transparency. Brückner: "In global supply chains, all parties must work perfectly together to create chain transparency. We try to offer our clients maximum insight, but the chain parties are not yet sufficiently transparent. For instance, we still have to deal with data protection. Personally, I think it makes sense that when transporting a container from Shanghai to Andernach, all data can be exchanged so that clients can track and trace their containers just like a parcel. Unfortunately, we are not yet able to achieve that in the container chain."
One indication thereof is the fact that actual ETAs, the expected arrival times of sea-going vessels, are often known late. Mijland calls this an area for improvement: "To properly inform clients as well as optimally deploy our vessels, we need this information in time. After all, if the ETA changes, the cargo opening time and cargo closing time on the deep-sea terminals also changes. It really isn't acceptable that a delay in the ETA of a sea-going vessel is only known three days in advance. You already know this when the vessel leaves Shanghai. Informing delays in a timely manner is crucial to avoid clogging up the port and the hinterland."
Central information point
Arwen Korteweg, Business Manager Containers at the Port of Rotterdam Authority, understands the demand for more transparency in the chain. "I see inland shipping as a collection of trucks on a ship. Inland container shipping is an efficient and sustainable transport system that bundles tens to hundreds of individual containers from shippers onto a single vessel and transports them to and from ports. Most shippers transport 10 to 50 containers per week."
"These individual containers are subject to individual agreements. Inland terminals and barge operators not only collect containers, but also the related information from all chain parties. To be a reliable transport partner, they must be able to manage this information optimally. Therefore, it's very important to have one central platform where people can find the right information at the right time. That way, you can tie digital information and physical container flows together perfectly. We're not there yet, but the first steps in the right direction have been taken."
Sustainable transport
An efficient chain ensures good Port Performance as well as sustainability. Inland shipping has traditionally been the most low-carbon mode of transport and has taken steps to become even more sustainable in recent years. Arwen Korteweg encourages the industry to continue with this. "Wouldn't it be great if all those corridors with freight transport to and from the ports also became green corridors? Several players in inland shipping are already working on fleet greening. We hope the industry will join forces in this area too, so that everyone has a chance to participate."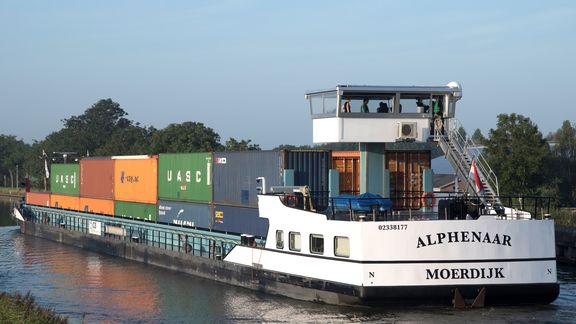 "Electric shipping with ZES (Zero Emission Services) or sailing on hydrogen, it doesn't matter, inland shipping will also become emission-free. In recent years, inland shipping companies have proven to be excellent at working together at corridor level. Not only among themselves, but also with parties in the seaport. Co-operation between inland and deep-sea parties is really something new and the basis for improving customer service. If we can also extend that to the environmental performance of transport, for example, in co-operation with shippers, we will make a huge step forward."
Inland shipping remains an incredibly important mode of transport for Rotterdam, the Netherlands and Germany. Clean, reliable, and still with plenty of capacity left. Mijland: "So in addition to the areas for improvement, we should not forget to highlight the opportunities and continue to promote inland shipping. We can transport much more by water." Brückner: "This also requires political support. Hydrogen facilities in seaports, for instance, are useless if the hinterland lacks the necessary infrastructure. This is another message that we should highlight. Partly due to the low-water issue, awareness of inland shipping has grown in political circles. An opportunity we should grab with both hands."