An accessible port
Depot Pier 7 joins integrated planning inland container shipping
04 September 2023
Reading time: 2 minutes
Effective 28 August, Depot Pier 7, part of Waalhaven Group, joined Nextlogic's integrated planning for inland container shipping. With this latest connection, Nextlogic is taking the next step toward full implementation within the port of Rotterdam. From the Waalhaven to the Maasvlakte, integrated planning now enables optimal use of available inland shipping capacity, 24/7.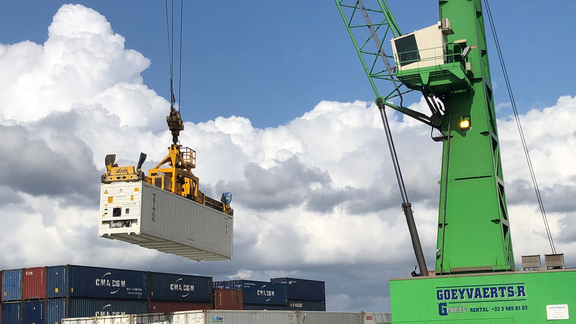 Depot Pier 7 was the fourth container depot in the Waal-/Eemhaven to link up with Nextlogic in a short time. Previously, five deep sea terminals on the Maasvlakte and 17 barge operators made the same move. The more parties join, the more efficiently integrated planning runs. In collaboration with all participants, Nextlogic strives to manage 100% of all inland shipping through this system by the end of 2023.
For integrated planning, the only pieces of information that Nextlogic needs from terminal or depot operators are available quay capacity and expected crane travel speed. Barge operators are to submit their rotation, docking, and cargo information. Aided by an advanced algorithm, this system leads to transparent and optimally aligned planning, which is continually customised to each situation. This approach adds substantial value for all stakeholders in Rotterdam's inland container shipping chain. Regular calls and fixed windows, as well as concepts like Barge Transferium Maasvlakte are optimally scheduled. This enables terminals, depots, and barge operators to optimally use their capacity, which results in shorter turnaround times at the port of Rotterdam.
Sijbrand Pot, managing director Nextlogic: "Depot Pier 7 joining the integrated planning system is a milestone in our pursuit of optimal outcomes for all stakeholders. This latest step contributes to a better balance within integrated planning, as well as offering the best possible service to our clients." Rob Wervenbos, General Manager, Depot Pier 7: "By participating in Nextlogic, we expect to leverage the capacity of our busy inland shipping quay even better. With this approach, we are bringing our services to inland container shipping to the next level, while we as Depot Pier 7 can work much more efficiently."
Source: Depot Pier 7