Digitisation
Intermodal online route planner Navigate now operational in 2 continents
05 June 2019
Navigate is operational as from today in the ports of Gdansk and SOHAR, which means it is now operational in 2 continents. This application developed by the Port of Rotterdam Authority enables importers and exporters to select the best transport options for containers they want to ship. Navigate also contains an online port information guide.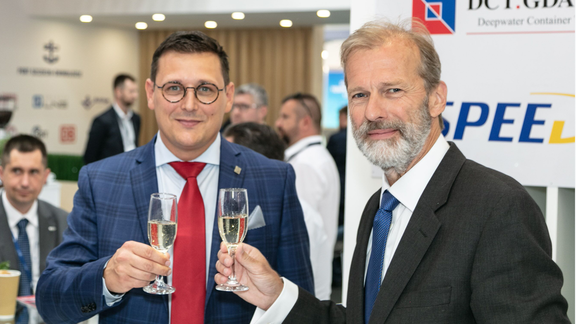 Allard Castelein, CEO Port of Rotterdam Authority: "The development of this application and its roll-out to other ports fits in our ambition to make the Port of Rotterdam the smartest port in the world. Taking the lead in the digital transformation will make the Port of Rotterdam more efficient, reliable and competitive. Cooperating in this with other ports also optimises the potential of digital solutions. The more ports use Navigate, the more valuable the application becomes."
Navigate: online route planner and port information guide
The Port of Rotterdam Authority launched Navigate in 2017. This tool provides insight into connections and companies, and into ports. Navigate offers a total overview of the most efficient deep sea and short sea connections of 550 ports in the world. It also links these to the available rail and inland shipping connections. The 'empty depot planner' also shows where empty containers can be collected and deposited and Navigate also contains an online port information guide giving insight into the companies operating in the port area.
The route planner offers various options based on the selected departure point and desired destination. The possible sea connections and options by rail, inland shipping or truck to the hinterland destination are also presented. The port information guide also facilitates easy contact, with just a click of a mouse, with the companies operating in the port, for instance to request a quotation.
Anacin Kum, CEO of Hutchison Ports SOHAR: "Navigate has been developed especially for companies seeking smarter ways to plan their container transports. The launch of this tool is a good first step and we are excited about its role in the global logistics market. With the addition of more operational data, SOHAR Navigate will become an increasingly valuable resource to improve efficiency within the supply chain. It will also provide visible and convenient options for importer and exporter groups in Oman and beyond, who generally rely on logistic providers."
Smart Port solution
Lukasz Greinke, president of the board of the port of Gdansk Authority: "Being the fastest growing port of Europe, we are under pressure to push the bar for ourselves further and further each year, to secure the momentum that we have already gained. The future of the maritime industry is not only in the state of the art infrastructure but also in digitalization that goes alongside it. Navigate is one of these sophisticated smart solutions that will set the standard for the years to come. The genius of this application lies in its simplicity. It will allow our clients to connect, compare and explore the entire supply chain faster than ever – and that is exactly what we want to provide."