Naturalis to continue FutureLand's successful platform for prehistoric finds
03 June 2020
Naturalis is pressing ahead with its drive to map out the huge variety of fossils found in the Dutch soil. As part of this project, the Leiden research institute will be taking over the successful site Oervondstchecker from FutureLand, the Port of Rotterdam Authority's information centre, on 1 June.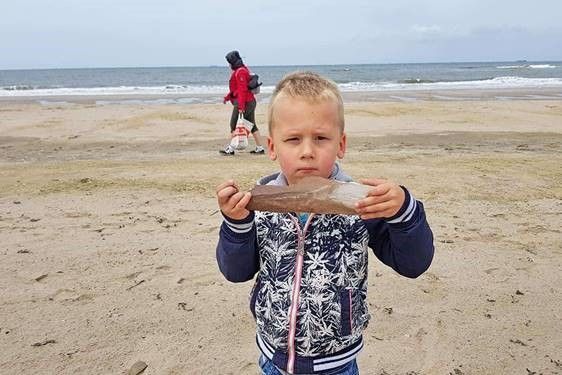 Prehistory buffs and collectors can visit www.oervondstchecker.nl to report any fossils or prehistoric objects found on the beach of Maasvlakte 2. Over the past seven years, the website has already recorded more than 15,000 finds. The submitted finds are evaluated by a group of volunteer experts and help researchers to map out the fauna and landscapes of long ago. The finds are stored in a database and linked to other data, steadily completing our picture of prehistoric life in this region.
Maasvlakte 2 is one of the world's foremost sites for finding the remains of Ice Age animals like the mammoth. The sand that was used to construct this new port expansion was extracted from layers deep in the seabed of the North Sea. The location and depth of the different batches were documented before the sand was deposited on shore – allowing researchers to identify the original site of the finds.
The website Oervondstchecker ('Primeval Find Checker') lists a range of unique finds, including the remains of a rare Dutch species of monkey and a sabre-toothed tiger, as well as fossilised hyena droppings and remains of our distant ancestors and their tools.
Oervondstchecker was initiated by the Port of Rotterdam Authority together with a number of other partners, including the Archaeology department of the Municipality of Rotterdam. Port Authority spokesperson Tie Schellekens: 'The impact of the Maasvlakte 2 land reclamation was closely monitored during the various phases of construction. This also extended to archaeological aspects. When it turned out that the paleontological finds offered new insights, we decided to broaden our scope. In early 2014, we saw an opportunity to get the public even more closely involved in the construction of Maasvlakte 2 by means of the web app. As we keep doing to this day via our information centre FutureLand, where fossil-hunting expeditions remain a regular part of the programme.'
Naturalis's incorporation of the Oervondstchecker site is part of the institute's ambition to not only map out the biodiversity found in today's Netherlands, but also in our distant past. Frank Wesselingh, palaeontologist at Naturalis: 'Over the next few years, we intend to work together with Waarneming.nl to develop Oervondstchecker into the leading public platform for reporting fossil finds along the entire coastal zone of the Netherlands. We will be doing this in partnership with fellow researchers from, among other institutes, the National Museum of Antiquities and the Cultural Heritage Agency.'