Energy transition
Port of Rotterdam Authority increases share in Rotterdam Shore Power
07 April 2023
The Port of Rotterdam Authority has increased its share in Rotterdam Shore Power B.V. (RSP), a joint venture of Eneco and the Port Authority, from 20 to 50 percent. The partners, which now have an equal share, plan to further accelerate and expand the supply of shore power in the port in the coming years to further reduce CO2- and nitrogen emissions and improve air quality.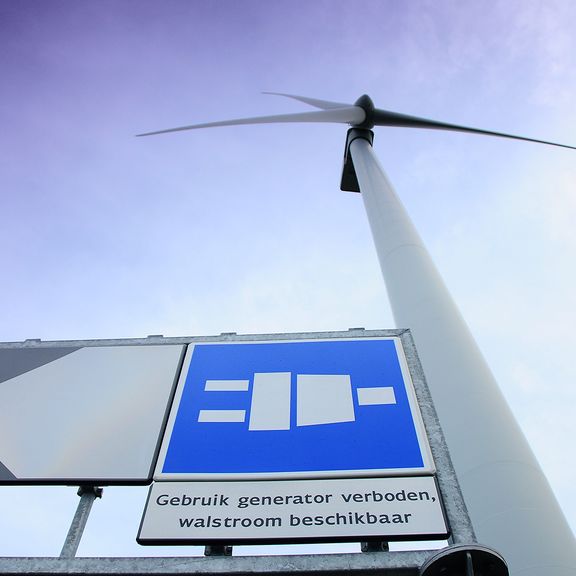 Rotterdam Shore Power develops, invests and operates shore power installations for the terminals in the port so that ships can switch off their diesel generators during mooring in order to prevent the emission of particulate matter, nitrogen and CO2.
RSP has been providing shore power for Heerema's ships in the Caland Canal since 2022, at the time supported in part by the municipality of Rotterdam. A new substation was built for this project to provide 20 megawatt hours of electricity from wind – the equivalent of the power consumption of 15,000 households. Projects have also been started at Boskalis (Waalhaven) and DFDS Ferries (Vlaardingen).
In the coming years, RSP wants to further expand its offer in the port, so that by 2028 all deep-sea container terminals are equipped with shore power. This can reduce emissions by 200,000 tons of CO2 and 2,500 tons of nitrogen per year. With this ambition, Rotterdam is leaping ahead of anticipating EU rules that prescribe the use of shore power for container ships and passenger ships by 2030.
Allard Castelein, CEO of the Port of Rotterdam Authority: "Shore power is an important tool to further improve air quality and reduce CO2 emissions. In addition, it reduces nitrogen emissions by 70% per docked ship. That is why, as a port, we are taking a more active role in soon offering shore power for all large container ships in the port."
As Tempelman, CCEO of Eneco adds: "The energy transition is multifaceted and the potential of electrification is enormous, shore power in the port of Rotterdam is a good example of this. With an equal interest in our JV Rotterdam Shore Power, the Port Authority and Eneco have found a good balance to accelerate the conversion to shore power together in the coming years."