Port of Rotterdam Authority to launch new trial with mixed mooring
03 March 2021
On 5 April 2021, the Port of Rotterdam Authority will start on a new trial with mixed mooring for inland vessels carrying dangerous cargo. These 'cone ships' – named after the one or two blue cones specifying the cargo's hazard category – will be allowed to moor side by side or next to vessels that are not carrying dangerous cargo. Research shows that this can be done without reservation. Through this experiment, the Port Authority plans to gain experience in this area. The trial was set up in anticipation of the new national policy guideline regarding mixed mooring that will shortly be issued by the Ministry of Infrastructure and Water Management and the planned adaptations to the Binnenvaartpolitiereglement (Inland Waterways Police Regulations, BPR).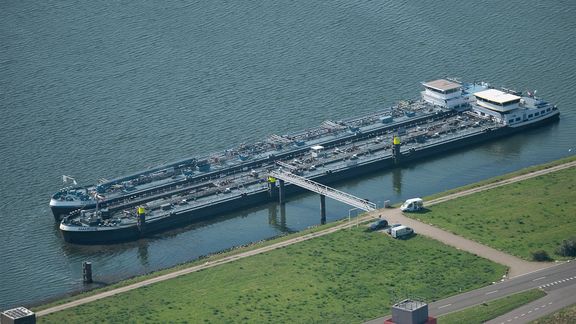 The trial aligns with the Port of Rotterdam Authority's policy to use existing space in the port area as efficiently as possible and create more berth capacity for inland shipping.
New regulations to be introduced in late 2021
When it comes to the safe storage and handling of dangerous substances, the adoption of new rules for minimum mooring distances in the BPR has already resulted in quite a few changes in the structural design of inland vessels. In 2020 the Port of Rotterdam Authority commissioned a third-party study to determine whether the existing mooring distances were still practical. Based on this risk analysis, the Port Authority concluded that the current mooring distances for vessels transporting certain categories of dangerous goods, as specified in article 7.07 paragraph 1 of the BPR, need to be updated. That is why the Harbour Master of Rotterdam, working in partnership with Rijkswaterstaat and all relevant stakeholders, has initiated a process that is intended to yield mooring distances in line with current safety levels in inland shipping. The Ministry of Infrastructure and Water Management has announced that by the end of 2021, it intends to have a new policy guideline in place until the regulation has been definitely adapted. In anticipation of this development, the Port Authority set up this trial – to gain the necessary experience with mixed mooring in Rotterdam's port area.
Trial
Working in consultation with external partners, the Harbour Master of Rotterdam has issued a new traffic order specifying various locations where vessels can deviate from the regulatory mooring distances. This traffic order also sets out rules of conduct that the vessels' captains need to adhere to when mooring at these locations. These rules take the safety report written in collaboration with the inland shipping sector as a starting point, and have been coordinated with Rijkswaterstaat, the Ministry of Infrastructure and Water Management, the Port of Amsterdam and RIVM.
The trial locations can be found along Hartelkanaal, at shore site numbers 6079 and 6081; Antarcticakade, at shore site numbers 8244 and 8249; 2e Petroleumhaven, at shore site number 3008; and Calandkanaal, at shore site numbers 5389, 5387, 5386 and 5384.
Some vessels will not be allowed to moor at these locations. Vessel categories that are excluded from participating in this trial are:
Inland vessels carrying dangerous cargo that needs to be indicated by three blue cones and lights;
as set out in article 3.14 paragraph 3 of the BPR;
Inland vessels carrying dry bulk subject to supplementary requirement VE03 specified in marginal paragraph 7.1.6.12 of the ADNR treaty;
Inland vessels carrying solid bulk that has been treated with disinfectants and that still has a disinfectants content above the required level;
One or more barges that are not connected to a pusher tug;
Passenger craft;
Pleasure craft;
Single-hull inland tankers carrying dangerous cargo, with the exception of bilge vessels;
Inland vessels – with the exception of bunker vessels – that carry cargo with a flashpoint of 55 degrees Celsius or higher, in which the cargo on board has not been reported to IVS next1, or;
Sea-going vessels that have not been issued any inland certificates.
The Port of Rotterdam Authority intends to continue with the trial until the new policy guideline comes into effect in late 2021. There is a clear need for more mooring options, and the initiative has been enthusiastically received by the sector. The trial allows the Port Authority to expand the port of Rotterdam's berth capacity in the very short term, while giving supervisory bodies and the inland shipping sector an opportunity to accustom themselves to the new mooring distance regulations that are on the horizon.