Sustainability
PowerCon installs shore power for the cruise terminal in Rotterdam
02 June 2023
Danish PowerCon A/S has been appointed to realise the shore power installation at the Holland Amerikakade. To this end, Peter Castberg Knudsen, partner of PowerCon, and Mai Elmar, director of Cruise Port Rotterdam and Cruise Port Shore Power, signed the agreement today, June 2.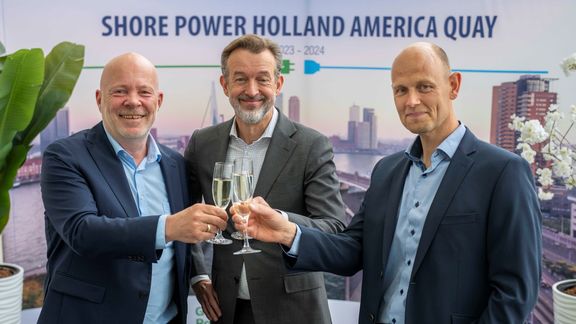 CSP is a subsidiary of the Port of Rotterdam Authority, which was set up specifically for the construction and operation of shore power. The Port Authority is responsible for the project management of the construction on behalf of CSP.
The use of shore power reduces CO2, nitrogen and particulate matter emissions. In addition, the sound of cruise ships at the quay decreases significantly. With the commissioning of shore power, Cruise Port Shore Power is already ahead of European regulations. This prescribes that by 2030 all cruise ships in European ports must use shore power.
The signing took place in the presence of Robert Simons – Port alderman of Rotterdam – and Boudewijn Siemons – COO of the Port of Rotterdam Authority. They signed a so-called 'starting document', because the Port Authority and the municipality, in collaboration with the Ministry of Infrastructure and Water Management, have made the financing possible.
The costs of the construction are estimated at approximately 15 million euros. Cruise Port Shore Power expects that in 2025 more than 75 percent of cruise ships in Rotterdam will use shore power. This year, 124 cruise ships will arrive at Cruiseport Rotterdam.
PowerCon A/S
The Danish PowerCon A/S focuses on solutions for the energy transition, especially in the field of wind energy and shore power. It specializes in installing shore power for cruise ports. It is also involved in the construction of shore power in Miami, Barcelona and Hamburg. PowerCon also recently signed a contract with the Port of Amsterdam to install shore power there.