Sustainability
SPIE and C-Green develop a modular plant for the processing of sewage sludge into biofuel
17 May 2023
SPIE Netherlands and C-Green are collaborating on the first Dutch modular plant to convert sewage sludge into biofuel. The innovative system – developed by C-Green – converts wet biomass (sludge) into the dry product hydrochar in an energy-efficient manner.
During the production process, five kilos of sludge are converted into one kilo of hydrochar. This organic and environmentally friendly end product is suitable for use as a biofuel and soil conditioner.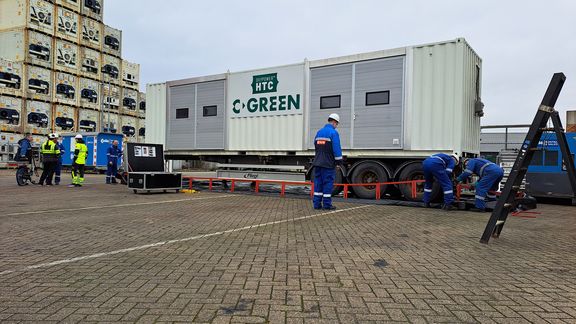 During Maintenance NEXT, SPIE and C-Green signed a cooperation agreement to build such a plant. SPIE is using its engineering expertise to build the system of C-Green in the Netherlands.
The decomposition process of the by-product sludge normally produces methane gas, which is 30 to 40 times more harmful to the climate than carbon dioxide. Moreover, collecting and transporting – wet – sludge involves high costs. The plant offers a good solution to this environmentally damaging processing. Converting sludge to dry matter ensures no methane gas is produced. In addition, it significantly reduces the volume, making transports more efficient, cheaper and environmentally friendly.
The compact plant, consisting of ready-to-use modules, can be located at a wastewater treatment plant or pulp mill, for instance, and can convert 25,000 tonnes of sludge per year. Storage of the product and processing of the waste stream can take place on site.
In the coming months, REYM Rotterdam, one of the largest waste management companies in the Netherlands, will test a pilot installation. iTanks, the knowledge and innovation platform for the port-related industry, brought REYM, C-Green, SPIE and InnoEnergy (InnoEnergy is an investor and shareholder of C-Green) together.