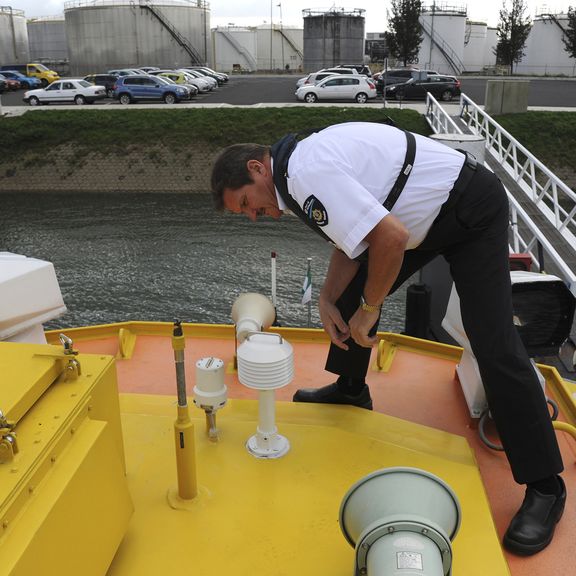 In the port of Rotterdam, work takes place with all sorts of substances that could be unintentionally released. Some gases are hazardous or irritating and not all gases are perceptible to human senses. An 'e-nose' (electronic nose) can do this and responds to changes in the composition of the air.
The port of Rotterdam has a unique system of e-noses: the we-nose network. This allows companies, municipal authorities and the Environmental Protection Agency to respond faster to emissions of unpleasant or dangerous gases. There are currently 250 electronic noses in the port. The we-nose network makes a significant contribution towards improving the safety, health and appeal of the port area and its environs.
We-nose network
About 250 e-noses are now present in the port. Two patrol vessels of the Port of Rotterdam Authority are also equipped with e-noses. Companies in the region, Maassluis municipal authority, Rotterdam municipal authority, Veiligheidsregio, Deltalinqs, South Holland provincial authority and the Rijnmond Environmental Protection Agency (DCMR) are actively involved in the we-nose network. The name 'we-nose' arose from the intensive cooperation. Its strength lies in the dedication of all parties, who want to realise the same goal together: to create a healthy, safe and attractive port.
Operation of e-nose
An e-nose is a combination of sensors that register changes in the composition of the air and transmit the information on this via a wireless connection to a central server. The we-nose network is offered to companies as a service by the Port of Rotterdam Authority, in order to effectively control unpleasant odours and to identify any release of hazardous substances at an early stage.
The Rijnmond DCMR uses the network to monitor the environmental quality. The DCMR control room monitors all e-noses. If changes in the air composition are detected, the control room investigates the cause, for example with a visit to the location. Once the cause is known, the company can take measures, and if necessary those in the surrounding area are informed.
Have you noticed unpleasant odours?
Report this to the DCMR by calling 0888 333 555 or online.