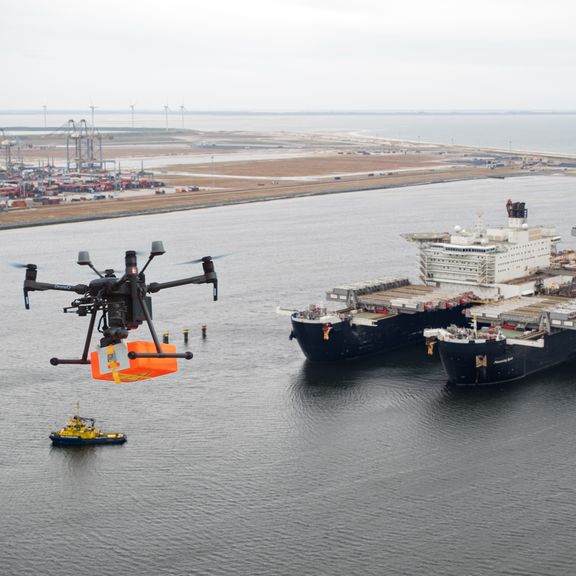 Drones may be used more widely in the future, provided safety is guaranteed. To enable wider applications, in the coming years airspace will be prepared in stages for autonomous flying, flying over cities, port and industrial areas, carrying packages and eventually unmanned flying with cargo and passengers.
The Port Authority is working with government and market parties to organise the airspace above the port in such a way that the possibilities can be used safely and quickly.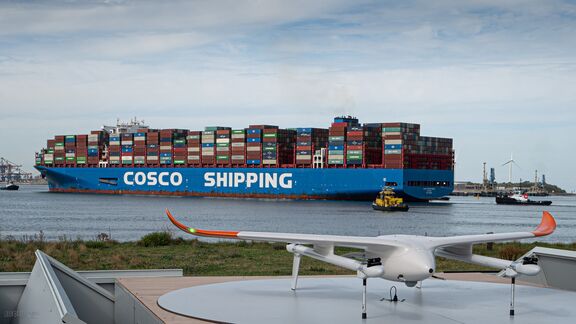 Request flight area
UAV permit holders in the specific category can use the port airspace in just a few steps. This applies to the area that we have designated as the test area for U-Space Airspace; Europoort/Maasvlakte (outside the CTR).
Steps for using the U-Space prototype airspace
1. Operational Authorization from ILT (only in Dutch).
2. Request flight area at the VLL Airspace Center of the Port of Rotterdam Authority. Request your flight area as early as possible and ultimately the day before flights. Define your 4D flight area as accurately as possible.
3. When requesting a flight area for the first time, please add your Operational Authorization or LUC to the request airspace form. This also applies in the event of a change in the OA.
4. Cancellation of flight or flight area; if, for any reason, scheduled and confirmed flights are cancelled, please notify us using the Flight Cancellation form. The airspace is thus released for other users.
Services after submitting form
The area request and cancellation forms are a first step in the U-Space service; they allow operators to inform themselves of each other's presence. At the same time, we are working on software integration between operators and the Unmanned Traffic Management system which will eventually make these forms redundant.
Topicality
Please check this page regularly for changes; for example, the present forms will eventually be replaced by an application that enables fast and convenient interaction with the VLL Airspace Centre. In addition, procedures will also be adapted as we build up experiences in airspace management.
Open category
In the port area, drone flights are not allowed in the open category. The open category is the category not subject to licensing.
See the port area map where these areas are shown.
The zone limits are now included in most drone pre-flight apps. In time, it will become compulsory to program the drone zones into the software of unmanned aerial vehicles. The software makes it impossible for the drones to fly into a restricted zone.
Specific category
For the specific category, a permit is required. Most commercial drone applications fall into this category, which is subject to more stringent requirements such as training and certification. Providers of drone services must analyse the risks and demonstrably reduce them to an acceptable level.
Drone operators are allowed to use a drone in the port if they have received permission from the Human Environment and Transport Inspectorate (ILT), based on the risk analysis. The rules and procedures can be found on the Website of ILT.
What these rules and procedures mean for the port area and how to apply for a licence can be found in the document below.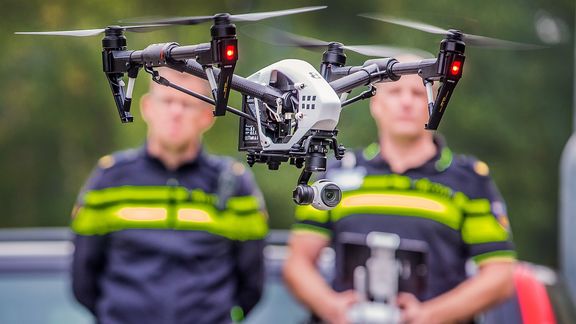 Reporting a drone incident
There are several incidents in which a drone can be involved. What do you do in which incident?
Illegal flight
See a drone flying illegally over the port area? Call the police on 0900-8844 if you suspect an offence.
Nuisance by a drone
You can report nuisance caused by a drone to the local police at 0900-8844. They can take action in case of a violation with, or nuisance from, a drone. Is a drone flying over your property, house or residential area? Then give the police as much information as possible about the location, date and time, the drone and the pilot. If possible, take a photo or video. It is important to make a report of nuisance caused by a drone. For the police to take action. And for the government to get a better overview of incidents involving drones.
Accident or incident
If there is an acute safety risk and an urgent situation, call 112. Please note, those involved may also be subject to an obligation to make a safety report. See 'report incident for investigation'.
Report incident for investigation
A resilient port
Drones offer many opportunities, but they can also be used for less good purposes and involve risks around safety and security. Examples include the use of drones to take unwanted pictures of people, espionage by reading (computer) screens or other industrial espionage, preparation of criminal activities, drug crime, smuggling or possibly even terrorist intentions. We are consulting with a large number of administrative parties regarding protection against these practices in the port.