Drones
in the port of Rotterdam
25 May 2022
Read more about the drone innovation programme and our focus areas.
Rules and procedures for using drones in the port.
Read more about the establishment of safe airspace management in which drones are part of the port's operations.
Drones, unmanned flying systems, are increasingly being used by companies in the Rotterdam port area, including the Rotterdam Port Authority.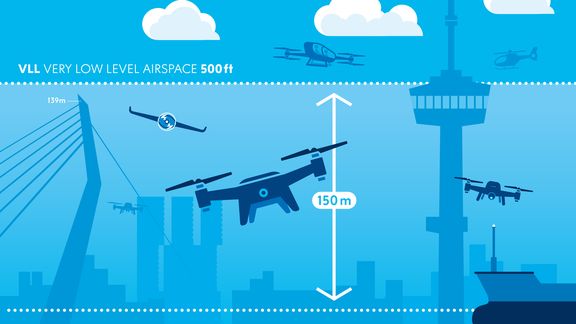 U-SPACE AIRSPACE PORT OF ROTTERDAM
Aviation and shipping have always been two separate domains. Today, this is changing as drones are becoming part of port operations. For the Port of Rotterdam Authority, safety is paramount. Over the next two years, a prototype will be developed to show exactly what is involved in airspace management, along with the related roles and responsibilities.
Application possibilities
There are therefore many possible applications: deployment at incidents, water pollution and fire fighting, surveillance and inspections, monitoring of port operations and security, damage control, inspections of terminal installations. But also in the construction and maintenance of infrastructure, such as roads and bridges, and in emissions. The Port Authority, too, is going to be using drones more and more. Think of the possibilities that drones offer to set up mooring facilities properly for users, but also as support for supervision by patrol boats and inspectors.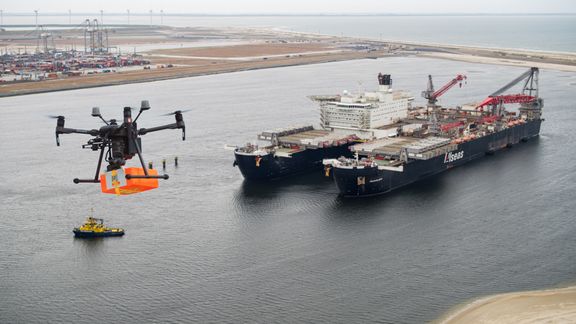 Future
In the future, drones will have a major impact on logistics chains and smart mobility. European regulations as of 1-1-2021 pave the way for the development of new applications in the field of unmanned freight and passenger transport. Fast deliveries of crucial production parts to ships at sea and the safe transport of people, for example to ships and drilling platforms but also for business transport in the port, then become possible. In the coming years, the airspace will be made ready for autonomous flights.
DRONE PORT OF ROTTERDAM
In order to further explore and broaden the application possibilities of drones, we have set up the Drone Port of Rotterdam innovation programme. Discover the next steps and our focus areas for the coming years.