Innovation
First drone vertiport in the Netherlands now operational
31 May 2023
The first drone vertiport of the Netherlands became operational on May 24, following the landing of a multirotor drone in the presence of several invited guests.
Vertiport 'Galileo' is located on the Future Mobility Park site at Merwehaven in Rotterdam, with a similar vertiport being located at the RDM shipyard on the other side of the Nieuwe Maas. This configuration is a prototype for a network of vertiports in the port area.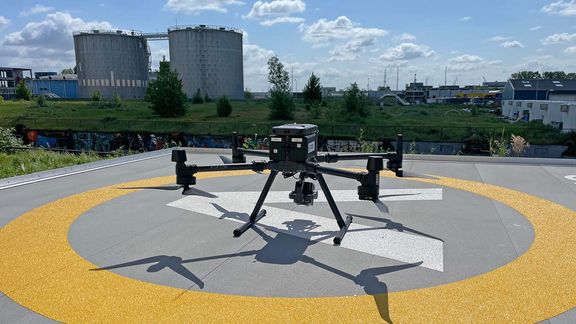 Testing in practice
In the future, drones will be used for all kinds of tasks in the Rotterdam port area, ranging from carrying out inspections and monitoring to transporting packages. This requires the establishment of a strategic network of universal take-off and landing platforms for drones, known as vertiports.
However, some experimentation is needed before then, preferably in the most realistic setting possible. These two experimental vertiports meet that need. The challenge is not so much in the technology, emphasised Tsjerk Kooistra, the Director of Dutch Drone Company, the company performing the test flight. 'Drones are still mainly used for inspections and the next step is logistics. We can already do a lot in terms of technology, but there are still many regulatory restrictions. This demo is just a first step in alerting industry to the developments so they know this is on its way.' Drone operators are free to carry out test flights as long as they meet all the requirements.
Next step: BVLOS flights
For this test flight, the DJI M300 RTK drone was controlled by a pilot on location. The ultimate aim is for drones to fly Beyond Visual Line of Sight (BVLOS) and for 1 operator to oversee multiple drone flights. Corridors between various areas also need to be established. Kooistra continued: 'This enables new business cases such as freight transport and later human transport too. It's time to put the theory into practice.'
The Port of Rotterdam Authority is playing a facilitating role in supporting drone operations in the port area. This includes providing digital support for drone traffic, which should ultimately enable large-scale operation of BVLOS flights.
Consortium partners
Vertiport 'Galileo' offers entrepreneurs and knowledge institutions an operational test environment to test drone services in the urban living environment within regular 'time-slots'. This also enables simultaneous low-key demonstrations to be held. In addition to the Port of Rotterdam Authority, the organisations involved include: Future Mobility Park, IT partner Almende, drone operator Dutch Drone Company, helideck supplier Bayards, the municipality of Rotterdam and the Province of Zuid Holland.