The port of Rotterdam offers a variety of facilities for inland shipping. Read more about the car landing berths, drinking water filling points and shore-based power facilities in the port of Rotterdam.
Car landing berths
Would you like to load or land a car? In the port of Rotterdam, you can do this at the following locations:
Schaardijk, oeverfrontnummer 115
Buitenhaven (Vlaardingen), oeverfrontnummer 657
Maashaven, oeverfrontnummer 1305 en oeverfrontnummer 1371
Waalhaven, oeverfrontnummer 2243
3e Petroleumhaven, oeverfrontnummer 4032
Botlek, oeverfrontnummer 4210
Calandkanaal, oeverfrontnummer 5711
Pionierkade, oeverfrontnummer 6100
Hartelhaven, oeverfrontnummer 7104
Pr. Margriethaven, oeverfrontnummer 8362
Albatroskade, oeverfrontnummer 2604
The locations on the Schaardijk, Waalhaven and Pionierkade are available to ships marked with one blue cone. The locations Hartelhaven, 3rd Petroleumhaven and Calandkanaal are available to ships marked with two blue cones.
Shore-based power in the port of Rotterdam
For inland vessels, shore-based power facilities are available in the port. Do you need electricity at public berths? Then you are required to use the shore-based power cabinets.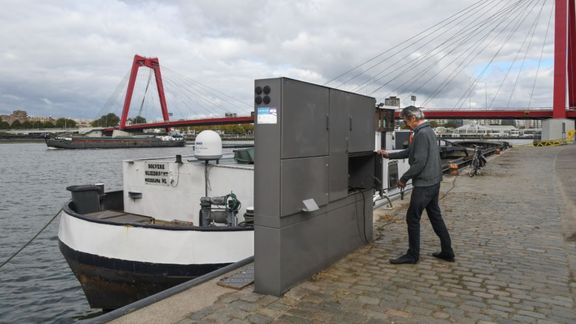 Questions, malfunctions or complaints?
Do you have questions, would you like to report a malfunction or do you have a complaint? Please report it via our complaint form. You will be contacted as soon as possible.
Why shore-based power?
To reduce emissions and noise, a generator ban for inland vessels at public berths is in force in the port of Rotterdam. The use of shore-based power is in line with the policy of the city and the port to ensure economic development and quality of life in the area go hand in hand. The use of shore-based power by inland vessels keeps the air cleaner. It ensures lower emissions of nitrogen oxides and particulate matter in the immediate vicinity. It also reduces CO2 emissions. Moreover, the environment does not suffer from the noise of running generators.
Drinking water
Facilities for drinking water intake can be found at the Parksluizen, the Pionierkade and the Schaardijk. You can use Connect4Shore to collect water from the Pionierkade and the Schaardijk.