Autumn holidays in FutureLand
28 September 2020
FutureLand, the Port of Rotterdam Authority's information centre on Maasvlakte is a great place to visit during the Autumn break. As well as our regular programmes, which include sightseeing coach tours and cruises around Europe's biggest port, we have added lots more things to do. Young visitors can take part in the kidsquiz or a craft workshop. Teenagers and adults can come and see the temporary exhibition about the digital port or follow an audio tour through the information centre.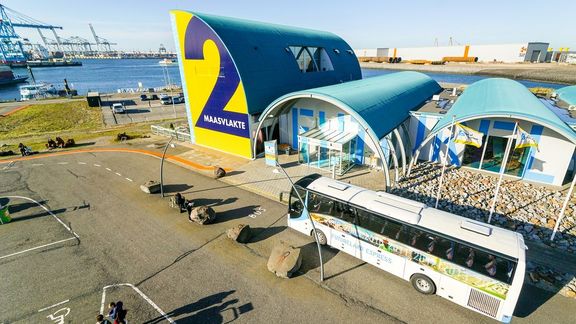 Kidsquiz
During the Autumn break, children and their parents or guardians can attend a fun and interactive presentation using voting keypads, and a demonstration of technical experiments. The children and parents can then embark on a quest to discover FutureLand. The quest has two levels of difficulty: one for children aged between 6 and 9 years and one for children aged 10 and up. You can take part in the kidsquiz for free. No booking required.
Kids' workshops
Visual artist and art teacher Joanna Smolarz will host a range of workshops for children during the autumn holiday. Using a range of techniques, such as watercolour, acrylics, pencils and felt-tip pens, you can paint pebbles and make container viewing boxes. The activities are offered on a rotating basis. It's free to join in and no booking is required.
'The Digital Port' Exhibition
Our new pop-up exhibition opens at the beginning of October. The exhibition is all about the digitisation of the port. What do bollards or drones have to do with this? Grab a tablet and use augmented reality to dive into this far-reaching area of development, which is bringing the future ever closer at tremendous speed!
'Crime in the Port' lecture
The port also has to deal with crime. For example, the Seaport Police have their hands full fighting the large-scale smuggling of drugs and other contraband. An interesting speaker from the Seaport Police will explain more on the subject during the 'Crime in the Port' lecture. This exclusive lecture will be given on Saturday 24 October on FutureLand's VIP Deck. You will need to book, which you can do at www.futureland.nl.
Maasvlakte Beach Treasure Hunt
Detectives wanted! Do you fancy exploring Maasvlakte Beach? Pick up your treasure hunt from FutureLand and head off to the dunes and beach, where you can learn all about the wildlife and businesses in the area. Maybe you'll even see a seal or a sand lizard! Tip: bring your binoculars. You can get your free treasure hunt from the FutureLand reception desk. The treasure hunt starts at the Maasvlakte Beach's P3 car park on Maasvlakteboulevard.
Maasvlakte 2 bike tour
Discover Maasvlakte 2 by bicycle. Pick up your free bicycle route map from FutureLand and explore Rotterdam's newest port area at your leisure! The ride of about thirty kilometres takes you past five hotspots. The handy fact sheet explains where you are and what you can see. Tip: grab a packed lunch for the road from our New Fork Restaurant.
About FutureLand
FutureLand is the Port of Rotterdam Authority's information centre at Maasvlakte 2. FutureLand is accessible for young and old and you can experience the port of the future here. FutureLand is located in the heart of the port of Rotterdam and offers views across Maasvlakte 2.
The information centre is open Tuesday to Friday from 10am to 5pm and on Sundays from 11am to 5pm. From May 1 to October 1 and during the autumn break, FutureLand is also open every Saturday from 11am to 5pm. Admission is free. The FutureLand Express and the FutureLand Ferry are available for trips and tours in the new ports throughout the year. Further information on our activities and times can be found at www.futureland.nl. Address: Europaweg 902, 3199 LC Maasvlakte, Rotterdam Port number 8360.