'Breakbulk carrousel' gives breakbulk and heavy cargo companies space for further growth in Rotterdam's Waalhaven.
06 December 2018
The smart carrousel plan in the Waalhaven was signed recently. In the coming three-and-a-half years, 12 hectares of industrial site and 1,155 metres of quay will undergo a user change. The industrial sites and port infrastructure will also be renovated by the Port of Rotterdam Authority. The aim is to give an additional growth incentive to the Rotterdam breakbulk sector.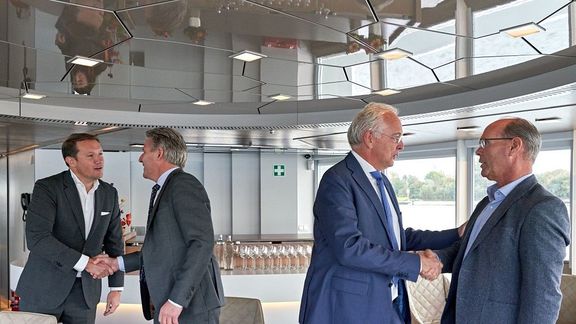 'This operation, which was carefully prepared over a long period together with the involved companies, enables us to demonstrate that we are giving the Rotterdam breakbulk sector ample space to develop', stated Emile Hoogsteden, Director Containers, Breakbulk and Logistics at the Port of Rotterdam Authority. 'This particularly concerns heavy lift, project cargo, steel and non-ferrous metals. Rotterdam is already well-positioned for this, due to its unique location, container logistics connections and increasing number of scheduled breakbulk and heavy cargo services. The investments now being made by these companies and the Port Authority will form a further incentive to make Rotterdam the breakbulk hub of Europe.'
Seven transfer operations
The redevelopment can start because empty depot MRS has relocated from Waalhaven to the short sea cluster in Eemhaven. This, together with seven transfer operations, has offered four renowned breakbulk companies space to modernise and focus on further development.
Four renowned breakbulk companies
The four companies involved are Metaal Transport (non-ferrous metals and steel), Broekman Project Services (heavy lift, project cargo and offshore), J.C. Meijers (multi-purpose terminal) and RHB/Rotterdams Havenbedrijf (specialist heavy lift and project cargo). Various land allocation agreements and declarations of intent have been signed with these parties.
'Much more efficient'
'We currently have a site on the Heijplaatweg and on Waalhaven Noordzijde', stated Willem-Jan de Geus, Director of Metaal Transport. 'We have also been leasing various warehouses throughout the port area to enable us to meet demand. With this new 90,000 square metre area of land on Droogdokweg, we can concentrate our activities and operate much more efficiently.' Metaal Transport will retain the Heijplaatweg location, including the offices, and will construct a 25,000 square metre warehouse on the new site.
About Metaal Transport
Metaal Transport has been providing storage and throughput of non-ferrous metals and steel products since 1964 and organises the final distribution to recipients. It works for producers and trading houses as well as for purchasers and also has LME certification (London Metal Exchange). The products are supplied and transported by water, road and rail.
About J.C. Meijers
J.C. Meijers has been active as stevedore and freight forwarder in Rotterdam for almost ninety years. The company also has freight storage capacity. The focus lies on conventional breakbulk in all its forms, including pallets, bundles, drums, cars, crates and project cargo, in combination with heavy lifts.
About Broekman Logistics
Broekman Logistics offers customised full service logistics solutions throughout the world. The company was founded in 1960 and specialises in transport by sea, road, rail, air and multi-modal transport. The Broekman Logistics head office is located in Rotterdam. Some 800 employees work from offices in Belgium, Czech Republic, Poland, India, Singapore and China.
About RHB Stevedoring & Warehousing
RHB is an independent stevedore terminal, that specialises in handling project cargo, heavy cargo, breakbulk and offshore cargo, as well as the storage of these types of cargo, including IMO. The company, founded in 1930, has its own 208-tonne port cranes and uses floating cranes with a 1,800-tonne capacity.