CFO Paul Smits is leaving the Port of Rotterdam Authority
19 October 2018
Upon the expiry of his term, Paul Smits, Chief Financial Officer of the Port of Rotterdam Authority, will be leaving the Port of Rotterdam Authority within the course of next year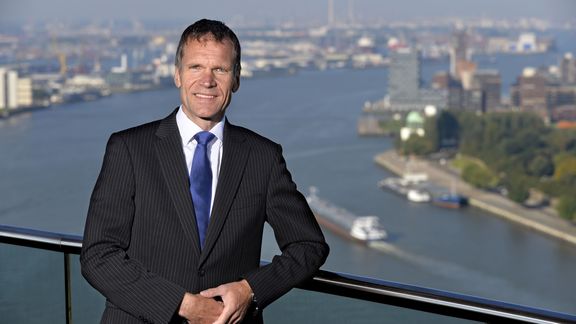 Paul Smits on this step: 'In addition to professionalising the financial position further, over the past seven and a half years I focused on digitisation and innovation within the company and the port. It is a wonderful challenge to contribute to guiding a company that operates in the heart of the economy and society. The organisation has changed dramatically and is prepared for the future. The time is now right to make the next step. That step will undoubtedly be once more within the area of finance, digitisation, energy transition and change'.
Allard Castelein, CEO of the Port of Rotterdam Authority, on Paul Smits' departure: 'I am grateful to Paul for his many years of commitment to the Port Authority and Port of Rotterdam. The introduction of the corporation tax for the Port Authority and the related liaison with the Tax Authorities has been a major milestone. Paul has also shown leadership in stimulating digitisation and the innovative climate in the Port of Rotterdam and we have made great progress in these areas'.
The Supervisory Board would like to take this opportunity to express its thanks to Paul Smits for his efforts and the results achieved.
Paul Smits will stay on during next year until he finishes up his work by 1 June. The Port of Rotterdam Authority has begun its search for a successor to Paul Smits. The appointment will be made by both shareholders.