Innovation
First blockchain container shipped to Rotterdam
01 July 2019
The first paperless, instantly financed and fully door-to-door tracked container made its way from Korea to the warehouse of Samsung SDS in Tilburg via Port of Rotterdam on Blockchain-based platform Naviporta.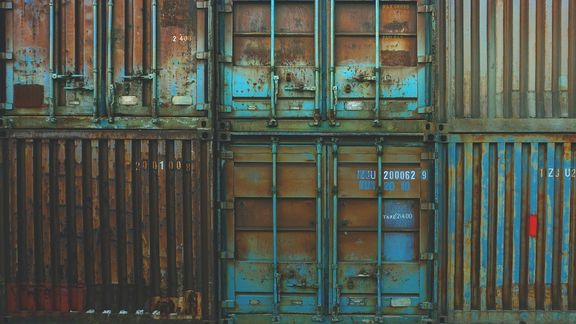 ABN AMRO, Port of Rotterdam and Samsung SDS demonstrated that blockchain technology enables interoperability, and that integrated container tracking and tracing, required cargo documentation processing and financing can all be done in a trusted, secure and paperless way.
New technologies such as blockchain have the potential to take over supply chain management entirely and disrupt traditional ways of working. As demonstrated in a Proof of Concept (PoC), a comprehensive supply chain management system with paperless integration of physical, administrative and financial flows is now truly feasible. The Naviporta concept fuels process automation and provides value for all actors in the supply chain.
The Naviporta Concept
The Proof of Concept has shown that Naviporta can support cross-supply chain end-to-end visibility for multi-modal cargo transport via ocean carrier, truck and inland barge shipping, as well as streamline access to finance.
The interoperability between physical and blockchain platforms enables an international trade ecosystem that allows safe sharing of commercial, sensitive and confidential information, and transfer of ownership between supply chain participants.
According to Robert van der Waal, Deputy President of Samsung SDS EU/CIS, Naviporta has clearly demonstrated its significant potential. "The first shipments to use the platform gave us a good insight into the possibilities of large-scale implementation. As cargo recipient, we benefitted from real time information and advance availability of digitized cargo documentation. We can re-design our processes more efficiently, enabling us to act based on real-time events and trusted data. Ultimately, this will strengthen our service proposition to customers."
Trade flows are often collateral for corporate loans. Edwin van Bommel, Chief Innovation Officer at ABN AMRO: "We are strongly committed to helping our clients fully automate their trade flow processes. All parties envolvd in the trade flow will benefit from more effective controls, greater efficiency, transparency and traceability.''
As logistics service provider, Barge Terminal Tilburg organised and executed the haulage of the sea container from the Port of Rotterdam to the warehouse in Tilburg. Terminal Manager Iwan Maessen stated: "The platform enables our company to use a uniform communications strategy to receive and share accurate information among supply chain members and use this to make better demand forecast decisions and identify the most suitable transportation mode for delivery.''
Next steps
With the Proof of Concept phase behind us, partners ABN AMRO, Port of Rotterdam and Samsung SDS have signed an extended collaboration agreement for the next phase of the Naviporta project.
The goal of this new phase is to conduct pilot projects with multiple shippers from various industries operating in different trade lanes.
The ultimate objective is to reach an open, independent and global cargo shipping platform. This will enhance supply chain transparency and efficiency, potentially unlocking millions of euros in cost savings in the long term.
About Naviporta
Naviporta is a leading supply chain management pioneer, powered by blockchain. More than a technology, Naviporta is a community of shippers, logistics service providers, authorities and banks integrated within and operating on DELIVER to improve the pace, ease and flexibility of global business operations. Each company connects just once and is automatically connected to many. That's the power of the network. It's a breakthrough approach: a global "on tap" utility-like system for powering trade flow networks. It's here now; it's proven; it's transforming how companies operate.
About Samsung SDS Global SCL Netherlands
Samsung SDS Global SCL Netherlands, established in 2011, is recognised as the number one Solutions & Service provider in South Korea. Samsung SDS Global SCL Netherlands used its innovative IT technology to develop the integrated logistics solution, "Cello". The company uses its IT and logistics expertise and insights to support its global customer base in innovating and growing across a wide range of industries. Samsung SDS Global SCL Netherlands has a revenue of approx. US$ 7.26 billion (2018) and is active in 60 locations in 40 countries. More information: www.samsungsds.com / www.cellologistics.com
About ABN AMRO
ABN AMRO Bank serves private and business clients and focuses on Northwest Europe. The bank also offers clients various global specialisms, including trade & commodities financing. The bank has offices in important international port cities and trade centres. Clients can rely on a complete range of products and services that can be purchased via multiple channels, including advanced mobile applications and internet banking. More information: www.abnamro.nl
About the Port of Rotterdam Authority
The Port of Rotterdam Authority aims to enhance its competitive position as logistics hub and world-class industrial complex. Not only in terms of size, but also in terms of quality. The Port of Rotterdam Authority's core tasks are to develop, manage and run the port in a sustainable way and to maintain a speedy and safe service for shipping. More information: www.portofrotterdam.com
Facts and figures about the Port of Rotterdam Authority and the Port of Rotterdam
Port of Rotterdam Authority: 1,200 employees, turnover around € 710 million. Port area: 12,500 ha port area (land and water, with approx. 6,000 ha of business sites). The port area length is over 40 km. Employment: 385,000 jobs. Throughput: approx. 470 million tonnes of freight per year. Shipping: approx. 30,000 sea-going vessels and 120,000 inland vessels per year. Added value: (direct and indirect) over € 45,6 billion, 6,2% of GDP.