Freight throughput in the Port of Rotterdam grows by 5.1% in first quarter of 2019
18 April 2019
In the first quarter of 2019, 5.1% more freight passed through the Port of Rotterdam than in the same period last year. In total, 123.9 million tonnes were handled compared with 117.8 million tonnes in the same period in 2018. The increase mainly concerned the throughput of containers (+7.3% in TEU, +5.9% in tonnes) and fuels. Mineral oil products, iron ore and scrap throughput fell.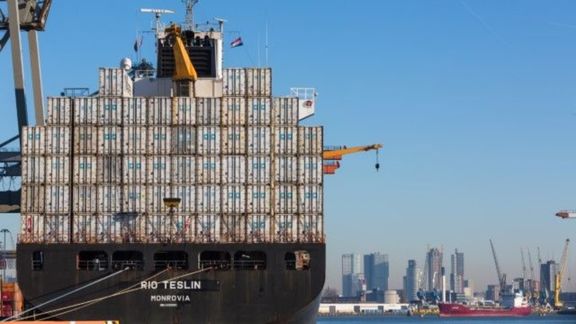 Allard Castelein, CEO Port of Rotterdam Authority: 'We had an excellent start to 2019 with record throughput volumes in the first quarter. The quarterly figures also confirm that Rotterdam is again strengthening its position as storage and transport hub for containers and LNG. For the whole year, we are adhering to our forecast that throughput volumes will increase slightly in 2019.'
Liquid bulk
In total, liquid bulk throughput increased by 4.6% to 58.5 million tonnes. Within this segment, more crude oil (+10.4% to 28.1 million tonnes) was transported than in the first quarter of last year. This difference concerned the increased supply of oil from the US. This oil is relatively cheap and ensures higher margins for the refineries. The throughput of mineral oil products fell in the last quarter (-7.4%) due to reduced trade in fuel oil between Russia and Asia. Once again, in the first quarter LNG throughput was much higher than last year (+143% to 1.8 million tonnes), with a record volume of over 500,000 tonnes in February. This growth concerned both the supply and distribution of LNG. This confirms the importance of Rotterdam as LNG trading hub.
Dry bulk
Within the dry bulk segment, iron ore & scrap and coal are the main commodities. Whereas the throughput of iron ore & scrap fell by 17.9% to 5.9 million tonnes as a consequence of 5% lower steel production in Germany, the throughput of coal increased by 15.7% to 7.5 million tonnes. Low coal prices have resulted in increased purchasing and stock build-up.
The throughput of agribulk remained almost the same at 2.6 million tonnes. Other dry bulk throughput increased considerably by 38.8% to 3.3 million tonnes. All in all, dry bulk throughput increased by 3.7% to 19.4 million tonnes.
Containers
Container throughput increased 5.9% by weight to 38.0 million tonnes and 7.3% by volume to 3.7 million TEU (the standard unit for containers). This growth is a continuation of the significant increase realised last year and is mainly a consequence of a sharp rise in transhipment volumes originating in Asia with destinations elsewhere in Europe. The shipping companies operating in three large alliances in Rotterdam view Rotterdam as an important hub in their networks, which means an increased concentration of freight throughput in Rotterdam. This resulted in feeder tonnage continuing to increase significantly by 15.1% to 7.3 million tonnes. Feeder vessels transport containers with intercontinental cargo to and from other ports that are not visited directly by intercontinental ('deep sea') services. An increasing exchange is also taking place in Rotterdam between deep sea services, which enable shipping companies to offer their clients more combinations between loading and unloading ports in Asia and Europe. Short sea throughput, the intra-European transport, fell by 7.8% to 6.9 million tonnes due to reduced trade with Russia and lower volumes to the United Kingdom in January and February. An enlarged imbalance between Asia and Europe is resulting in significant increases in empty container throughput, leading to TEU growth being considerably higher than tonnage growth.
RoRo and other breakbulk
The total throughput in the breakbulk segment (Roll-on/Roll-off and other cargo) increased by 9.2% to 7.9 million tonnes. RoRo traffic increased by 10.7% to 6.4 million tonnes compared with the first quarter of last year. Volumes increased particularly significantly in March, with the stockpiling of supplies in connection with a possible hard Brexit. Throughput of other breakbulk rose by 3.1% to 1.5 million tonnes.