Energy transition
Install wind turbines safely and fast in a choppy sea
19 July 2022
Imagine: a fierce storm, rough sea and choppy waves. The special PuppeteerTM robot installs the sails of the wind turbine, coolly and with great precision from a rocking vessel.
Click, done. Welcome to the world of X-Laboratory, the Rotterdam-based company that makes tools and software which enable wind farms to be built swiftly, stably and sustainably. Founder and co-owner André Schiele: 'The planet needs more green energy soon, we need to get ahead, push forward!'
Schiele is on a mission. He swapped space for the here and now: 'I spent 16 years working in the world of space technology, focusing on space flights and equipment with good longevity. In X-Laboratory, I'm now using those skills to build solutions for urgent problems here on Earth. This is how I'm contributing.'
Never been done before
In the X-Laboratory workshop at the RDM, a robot arm whizzes through the air. These are the same movements that The PuppeteerTM will be making at sea one day. Schiele: 'At X-Laboratory, we build tools, sensors and software for the offshore sector. Our products provide motion compensation when installing the monopile foundations of the windmills. Among our latest innovations is The PuppeteerTM, a robot which installs the sails of the wind turbines from a floating vessel, something that's never been done before. And a monopile grab with motion compensation which we build together with partners. The PuppeteerTM and the monopile grab are world firsts which will hopefully bring about a revolution in the offshore wind.'
Motion stabilisation
What does motion compensation involve? Schiele: 'Obviously, installing a pile or the foundations, the base, requires great precision. A monopile weighs around 3,000 tonnes and is over 12 metres in diameter. So these are large components. When installing at sea, you are faced with wind, current, waves and the motion of the vessel. During the work, you want as little motion as possible. The monopile needs to go straight into the sea bed. Our software and sensors can calculate down to the centimetre where exactly, at which angle and with what forces the pile needs to go into the sea. For that, we use satellite data, among others. Our control and sensor system, the X-Control Guidance System, provides this stabilisation. That enables us to keep the piles under control and install them safely and efficiently.' We use the same system for The PuppeteerTM.
Time savings = faster and greener energy
But what makes it sustainable? Schiele: 'Our tools and software can shorten the construction time by up to 40 percent. That means our clients can build wind farms faster. And the less time it takes to build a wind farm, the more CO2 you save during the process, and the cheaper the power generated by the wind farm. And that delivers more green energy faster, because we can construct more wind farms more quickly. Which is what the world needs!'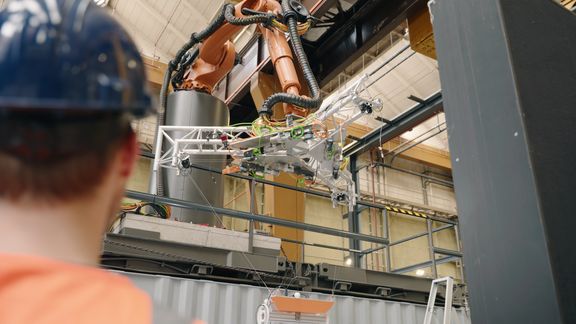 Speed up
X-Laboratory is busy testing The PuppeteerTM and monopile grab. Schiele: 'Next year, we will put the technology into practice for the first time, possibly in the construction of the wind farms Godewind 2 and Borkum Riffgrund in Germany, with our client Jan De Nul. Then we will install 107 foundations, if nothing comes in between. There are now less than 50 gigawatts of wind farms in the seas worldwide. To be able to fulfil rising demand and achieve the climate goals for 2050, experts say we need around 1000 to 2000 gigawatts in 2050. So, there's a lot of growth in offshore wind energy, and I think we can speed that up enormously with our ground-breaking key technology. Companies in the maritime industry and the oil and gas industries can benefit from that.'
Dream
Schiele is hugely driven to conquer the world with his technology. 'If we want to ensure that humankind can continue to live on our planet, we need to save the climate, it's as simple as that. We need technology to transform processes in the energy sector and move from fossil fuels to circular and renewable sources. I am convinced that we can also earn money with technologies which are good for society and humankind. That's my dream: a society and economy based on sustainability.'
Sparring with fellow entrepreneurs
For Schiele, Rotterdam is the right place to carry out his mission. 'People in Rotterdam are flexible, there's a proactive mentality. The municipality and the area support our growth as a start-up. We can hire huge spaces to build our equipment. Everyone contributes something to boost growth. And our clients from the maritime industry are obviously close by. But what I also enjoy is being able to spar with like-minded fellow entrepreneurs.'
Triple focus
Schiele has another tip for other companies: 'Have you got a clear solution for an existing problem? Don't be afraid to try out new things, involve your clients from the start and: focus, focus, focus!'