Sustainable and efficient logistics chains take centre stage at transport logistic 2023
16 March 2023
On the basis of innovative technology, access to data, new sustainable fuels and international alliances, Rotterdam is doing everything possible to make the port and the logistics chain via Rotterdam as efficient, and therefore as sustainable, as possible. In this way, any wastage of time, money, capacity and energy is minimised. These priorities are the focus of this year's transport logistic in Munich.
Sustainability and efficiency are important to strengthen the competitive position of the port of Rotterdam, the companies in the port complex and the logistics chain.
Containers
Half of the nearly 470 million tonnes of annual goods throughput in Rotterdam are transported in containers. That is the equivalent of about 15 million containers a year. The container market will continue to grow in the decades ahead as a result of factors such as population growth and increasing consumption.
Rotterdam wants to continue facilitating and encouraging this growth, but in a sustainable, efficient and data-driven way. The port complex is therefore continuing to invest in adequate capacity and connectivity. By 2035, 16 million TEU of additional capacity is expected to be needed in the Hamburg-Le Havre range to accommodate the expected growth. Rotterdam has invested early in expanding capacity. These investments will result in some 8 million TEU of additional terminal capacity in Rotterdam by 2035.
Optimizing existing assets
It is important to add capacity, but even more important to optimise the use of existing assets, to balance the seaward and hinterland sides, and to establish a robust and stable system. The disruptions in the logistics chain have demonstrated thus in recent years. Rotterdam's competitive position is, and will remain, ultimately dependent on performance in the port and logistics chain.
Port performance is located at several levels. For example, by handling volumes as efficiently and reliably as possible to and from the hinterland, allowing the capacity of the hinterland chain to grow in line with seaward capacity, facilitating port calls efficiently (and cost-efficiently), and helping clients to make their operations more sustainable.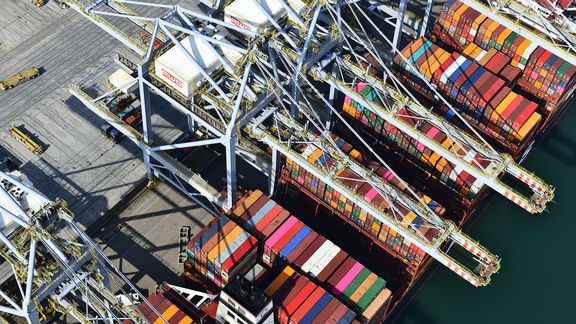 Boudewijn Siemons, COO of the Port of Rotterdam Authority: "As the Port Authority, we are actively committed to enhancing the sustainability and reliability of the logistics chain. With our strong infrastructure and growth potential, we are well equipped to meet future demand. By working closely with our supply chain partners, we aim to deliver continuous improvement and a future-resilient supply chain for our clients."
transport logistic Munich 2023
The Port of Rotterdam Authority will be participating at the transport logistic 2023 trade fair in Munich from 9 to 12 May. The port of Rotterdam will be represented once again this year at Europe's largest international supply chain fair by a large delegation from the port's business community. The stand will be located in Hall B3 (313/314.