Energy transition
Prototype most powerful wind turbine in the world Haliade-X 12 MW installed at Maasvlakte this summer
21 January 2019
GE Renewable Energy and Future Wind (a joint venture of Pondera Development and SIF Holding Nederland) announced that they have signed an agreement regarding the installation of the first prototype of the Haliade-X 12 MW wind turbine at Rotterdam-Maasvlakte in the summer of 2019. The agreement covers a 5-year period for testing and a 15-year 'full service' operation and maintenance term.
The prototype of the offshore wind turbine will be installed on the coast to allow more effective testing. At the start of actual operations, GE Renewable Energy will collect the data required when applying for a type certificate – a key step in the further commercial exploitation of the product from 2021 on.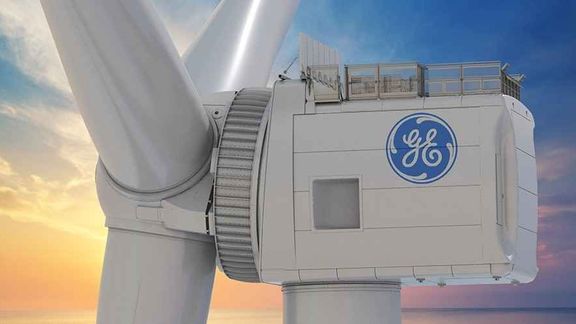 Contractors have already started site preparations for the installation of the turbine. The nacelle of the Haliade-X 12 MW prototype will be assembled in Saint-Nazaire, the three 107-m long LM rotor blades in Cherbourg and the masts in Seville. The parts will all be shipped to Rotterdam, where they will subsequently be assembled and installed.
The prototype in Rotterdam is part of a € 320 million investment in the Haliade-X project announced by GE Renewable Energy in March 2018. The purpose of this investment is to arrive at a more competitive source of clean, renewable energy.
Responses
Port Authority CEO Allard Castelein: "We are proud that GE Renewable Energy and SIF have selected our port as a testing site for the world's most powerful offshore wind turbine. This confirms the port's reputation as an attractive partner for the offshore wind industry and a driving force behind the energy transition."
Alderman Arno Bonte: "In our fight against climate change, we will need to massively increase the number of offshore wind farms. We are happy that GE has selected Rotterdam as the location for testing the Haliade-X 12 MW. This is the largest wind turbine in the world and it can help us accelerate the transition to clean energy."
John Lavelle, VP and CEO of Offshore Wind at GE Renewable Energy: "The port of Rotterdam has proven to be a valuable force by providing all the necessary conditions to test the Haliade-X under the most drastic weather conditions."
Fred van Beers, CEO of SIF Holding Nederland: "We are delighted that we have been allowed to install the Haliade-X 12 MW at SIF's site in Rotterdam. SIF strives to play a pioneering role in the development of the offshore wind industry, and this project contributes to this objective. Moreover, the project is in line with SIF's ambition to become completely CO2 neutral. The Haliade-X 12 MW will be supplying carbon-free energy to the power grid."