Energy transition
Rotterdam-Moerdijk can make important contribution to achieving climate goals and European security of supply
27 September 2022
Industry in Rotterdam-Moerdijk is well positioned not only to meet climate goals but also to contribute to sustainability outside the port area and European energy security of supply. A crucial element here is a new energy infrastructure. This becomes apparent from an update of the Rotterdam-Moerdijk Cluster Energy Strategy (CES).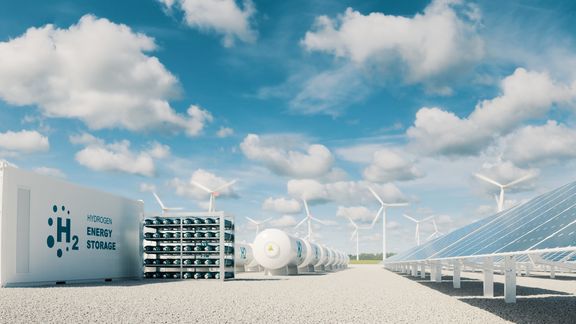 The CES was first drawn up in 2021 and has been updated this year based on a new data study. The results show that the 2030 targets are within reach, but there is an urgent need to build the necessary energy infrastructure. This requires government direction and cooperation with industry.
Nico van Dooren, administrative coordinator of the Rotterdam-Moerdijk CES and also Director of New Business at the Port of Rotterdam Authority: "The Netherlands not only faces a huge task but we also have the opportunity to grow into a major European hub for hydrogen and circular production. This way, we not only contribute to climate goals and sustainable employment, but we can also reduce our dependence on countries like Russia. However, to achieve this, it remains essential that the necessary infrastructure is built as a priority so that we can provide new, renewable energy to all projects in a timely manner."
Transition requires new infrastructure
In Rotterdam-Moerdijk, a broad portfolio of sustainable projects is being developed that together add up to a CO2 reduction of around 17 Mtonnes by 2030. In addition, there is significant potential to contribute to CO2 reduction outside the ports.
The new data study shows that just making the cluster itself more sustainable by 2030 will require four times as much electricity and twice as much hydrogen as it does today. In addition, the deployment of carbon capture and storage (CCS) is crucial to meet short-term climate targets while the transition to circular raw materials and fuels will have a greater impact in the long term.
Contribution to the security of supply and the economy
Annually, around 12% of total European energy demand comes in via Rotterdam, most of which is transported to other industry clusters in the Netherlands and Germany. A successful transition will give Rotterdam-Moerdijk the opportunity to safeguard this strategic position and its earning power in a sustainable manner and to grow into a hub for the import and transit of hydrogen and renewable energy. This will allow the cluster to contribute to the Dutch economy, the European climate goals and the RePowerEU's goals of reducing dependence on Russia in particular for energy and raw material imports while maintaining its competitive position.
Eight key projects
To facilitate all this, eight key priority projects have been identified:
Infrastructure for the import and transport of hydrogen
The Delta Corridor pipeline infrastructure to Chemelot and Germany
Electricity grid reinforcement and new offshore wind landings
Infrastructure for the transport and subsea storage of CO2
Heat pipes from industry
Infrastructure for the H-vision project, for low-carbon hydrogen production
Shore power plants for sea-going vessels
Hydrogen transport infrastructure between the Netherlands, Belgium and Germany
The CES was drawn up by a workgroup of the Port Authorities of Rotterdam and Moerdijk, the provinces of South Holland and North Brabant, Stedin and Deltalinqs, an association of more than 700 companies in the port area.