Innovatie
SmartPort to receive 0.5 million grant for strengthening Rotterdam's innovation network
08 March 2019
The Province of Zuid-Holland has pledged its support to the SmartPort network over the next few years. The administration has allocated a total of 0.5 million euro in public funds for strengthening connections between companies in the port, knowledge institutes and local authorities that are geared towards accelerating innovations in Rotterdam's port area.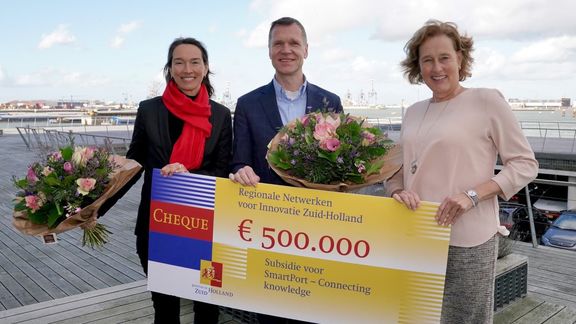 Member of the Provincial Executive Adri Bom-Lemstra: "Networks like SmartPort enable us to tackle the major social challenges that lie on the horizon. The energy transition; the circular economy. The port is filled with opportunities to make a difference. Working together and sharing knowledge are important conditions for success in these areas. We intend to encourage such collaborations through this grant."
Spread across a term of four years, the network grant will give considerable impetus to SmartPort's goal: to accelerate Rotterdam's transition towards the world's Smartest Port in 2050. Based on the Road Maps for Smart Logistics, Smart Energy & Industry and Futureproof Port Infrastructure, the alliance will be initiating and co-financing demand-driven scientific research and forming new coalitions. The underlying objective is to create new impact by generating freely-circulated knowledge and valuable decision-making input for companies in Rotterdam's port area.
'SmartPort continues to build the bridge between knowledge institutes and the port's business community. As a regional public authority, the Province of Zuid-H olland plays an indispensable role in this process," says SmartPort Managing Director Elisabeth van Opstall.