Ports of Mannheim and Rotterdam sign logistic partnership
01 May 2023
In the coming years, the ports of Mannheim and Rotterdam will step up cooperation in making the logistics chain between the two ports more sustainable and digital. To reinforce these plans, Uwe Köhn, Port Director of Hafen Mannheim and Matthijs van Doorn, Commercial Director of the Port of Rotterdam Authority recently signed a memorandum of understanding (MoU).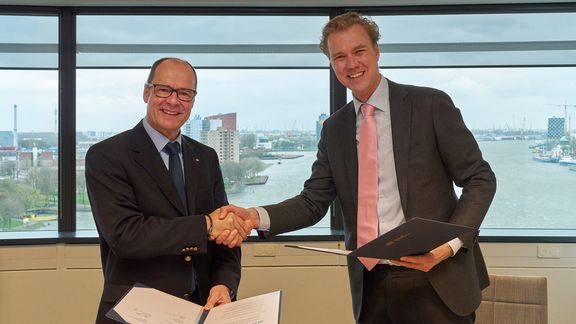 The port of Mannheim has a strategic location along the Rhine corridor and within a strong industrial area, from where bulk and container flows are transported to and from Rotterdam.
Topics to be addressed in the cooperation include the possibilities for further developing the hinterland network via rail and inland shipping, transforming the logistics chain into a zero-emission transport corridor for freight transport by road, water and rail, further increasing the reliability and efficiency of barge handling at deep-sea and inland terminals, and sharing knowledge between both port complexes to work towards a fully transparent digital Rhine corridor.
Regarding energy transition, both ports will examine whether they can act jointly in facilitating the infrastructure for the transport of alternative renewable energy carriers, either produced, imported or used in the ports, the hinterland and between the ports along the corridor.