Sustainability
HGK Shipping and Port of Rotterdam Authority sign cooperation agreement for greater sustainability on inland waterways
25 April 2023
HGK Shipping and the Port of Rotterdam Authority signed a long-term cooperation agreement to promote sustainable concepts for inland waterway services leading to and from seaports on 20 April 2023.
The document primarily focuses on the energy revolution and logistics for hydrogen, as well as reducing CO2 emissions by using innovative drive concepts and digitalisation. These topics are crucially important to ensure reliable and sustainable supplies for industry. The agreement ensures that stable supply chains will continue between Germany and the Netherlands, and within Europe.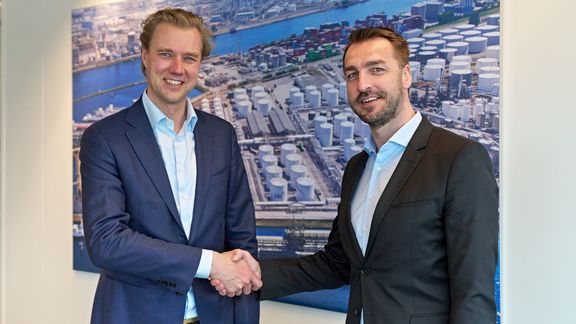 As part of the cooperation arrangement, Europe's largest inland waterway shipping company and Europe's largest seaport will maintain close ties to share information and jointly examine the possibilities that open up for both partners. For example, a reliable supply chain for hydrogen and hydrogen derivates as well as alternative renewable fuels is due to be established to promote the energy revolution. Among other things, the partners will analyse how the need for services to transport, store and tranship alternative energy sources will probably develop. Another important factor in this connection is how to make the inland waterway fleet more ecologically-friendly and draw up implementation concepts for renewable engine fuels.
HGK Shipping and the Port of Rotterdam Authority also intend to enhance transparency along supply chains in order to be able to organise procedures in a more efficient, flexible and sustainable manner. The goal here is to involve other stakeholders, in addition to exchanging information about the quantities and types of goods that are transported and transhipped, for example. This is set to take place through cooperation on digital platform initiatives, which support communications and the exchange of information for all the partners involved in the supply chain and which are working to achieve standardisation further inland.
Matthijs van Doorn, Vice-President Commercial at Port of Rotterdam Authority: "We are very pleased with the enhanced cooperation with HGK Shipping. Cross border initiatives with strong and ambitious partners in the areas of energy transition and digitalisation are of paramount importance to reach our goal of becoming a CO2 neutral port by 2050. Inland shipping plays a crucial role in supplying hydrogen to the European market and at the same time this sector has the best credentials to do so in a sustainable and efficient way by sailing on alternative fuels and using innovative techniques."
Steffen Bauer, the CEO of HGK Shipping, comments, "The port of Rotterdam is assuming a key role in supplying European industries and the energy sector as the hydrogen economy is launched. As an important hydrogen port, it depends on efficient connections to destinations further inland – and we at HGK Shipping are able to handle them through our inland waterway system. By working together, we can develop the future flows of supplies for the energy sector, but also for our parent company, the City of Cologne Public Utilities Group, and therefore enable reliable and dependable access to renewable energy sources."