Vivienne de Leeuw new CFO of the Port of Rotterdam Authority
06 June 2019
As of 1 July 2019 Vivienne de Leeuw has been appointed by the shareholders as the Port of Rotterdam Authority's new Chief Financial Officer and member of the Executive Board. De Leeuw will succeed Paul Smits, who is stepping down after eight years as CFO of the Port Authority.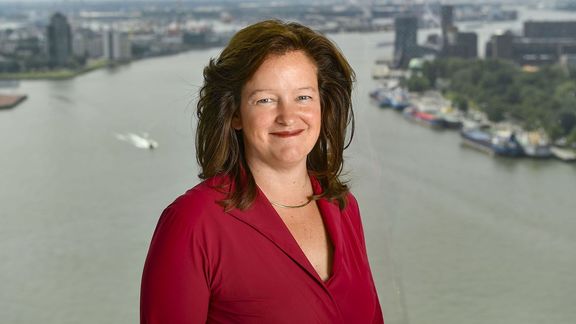 Miriam Maes, chairman of the Supervisory Board: "We are very pleased with De Leeuws's appointment. She combines her in-depth financial expertise with relevant managerial experience in commercial business services. And she is at home in the world of infrastructure. As a member of the Executive Board, she will therefore make a significant contribution to the further development of the port authority in times of digitisation and energy transition."
Allard Castelein, CEO Port of Rotterdam Authority is looking forward to cooperating with the new CFO: "De Leeuw is a welcome addition to our management team. With her strong financial background, her broad experience with disruptive processes and focus on further professionalisation of the financial column and work processes, she will certainly add value to the Port Authority. We look forward to her joining us."
Vivienne de Leeuw: "I see a crucial role for the Port of Rotterdam Authority in the energy transition and digitisation, in which I am keen to make a contribution. In a rapidly changing environment, I look forward to building a bridge between the organisation, its strategy and stakeholders and to further professionalise the financial processes. The pride that the company radiates is almost tangible, that is wonderful to see."
De Leeuw was previously CFO at RTL Nederland and CFO at KPN Consumer Residential. She started her financial career in 1999 and held management positions in the areas of Corporate Finance and Investor Relations with Arthur Andersen/Deloitte and Unibail-Rodamco. During her career, De Leeuw has gained extensive experience as a strategic manager with regard to data intelligence, process optimisation and transition to new business models, for example.