Port of Rotterdam developing into major digital platform
The port of Rotterdam has long been recognised for its excellent physical infrastructure. To safeguard its strong competitive position in the decades ahead and to maximise the impact of its activities, the Port Authority is steadily expanding these assets with a digital component. As a result, a completely new port is coming into being against the familiar backdrop of massive ships, towering cranes and water spray. A digital 'doppelganger', which runs on data, laptops and mobile phones. A port made of 'apps', in which algorithms continuously track the movements of sea-going vessels, containers, inland vessels, trains and trucks. A port where everything is interconnected and where objects independently exchange information. Our port is basically going through the same digital transformation that has already run its course in banking, retail and travel. Ultimately, the port of Rotterdam will develop into an extensive digital platform that directs transport movements in the port area – without operating a single warehouse, train or ship of its own. This will make the port of Rotterdam more efficient than ever, enabling us to increase our impact, drastically reduce the waste of energy, attract more freight to our hub and further build Rotterdam's competitive edge as the world's smartest, cleanest port.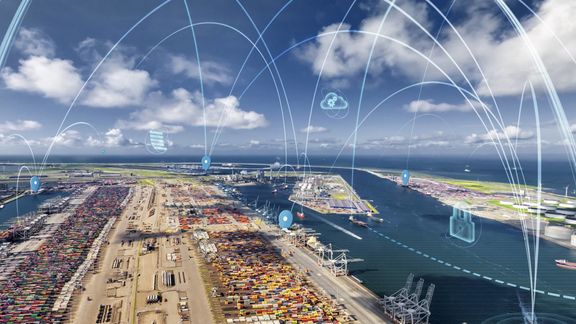 Port of the future
A port's success isn't measured by the volume of cargo that is put through the port area, but by the impact that is created there. The port of the future is the port that is best able to adapt to our changed world: a port that is digital and climate-neutral. A port that draws its power from offshore wind farms, where operations are predictable thanks to the utilisation of real-time data, where ships can load and unload without waiting times, and where users save time and money thanks to the optimal use of AI, blockchain and IoT.
In the port of the future, activities will be more transparent, predictable and efficient than ever. Providing direct and indirect employment to some 385,000 people and representing 6.2% of the Netherlands' GNP, the port of Rotterdam is an important pillar for both the Rotterdam region and the Dutch economy as a whole. To ensure that it can retain this prominent position in the longer term, it is crucial that the port remains a front-runner in digitalisation.
Smart infrastructure and applications
In the port of the future, objects will be able to communicate with each other without human intervention. Quay walls 'talk' with ships, containers with cranes, terminals with trains, distribution centres with trucks. These exchanges help the port to optimally utilise the available capacity. The Port of Rotterdam Authority is currently realising the digital infrastructure for this development – fitting assets with the required sensors, for example. By now, hundreds of sensors have been installed throughout the port, and we are gleaning a mass of insights and potential improvement opportunities from their readings. For example, this data-driven approach already allows us to plan maintenance and dredging based on necessity rather than a fixed schedule.
Secondly, we are working together with local companies on a variety of digital applications that can help make cargo flows in the port swifter, safer and smarter. This optimises the logistics chains that run through Rotterdam and contributes to the further improvement of the port's connections with the hinterland and other major logistics hubs.
And finally, Rotterdam is making a targeted investment in the platform economy and disruptive technologies that stimulate new types of service. In this endeavour, we work closely together with tech providers, cargo owners and financial institutions – each of which can add their own value to the whole. This opens up new and unexpected avenues and creates opportunities to develop novel, sustainable services. Utilising blockchain applications like DELIVER, for instance, or the deployment of drones in the port area. Through this approach, the Port Authority's role is gradually shifting from traditional port manager to port entrepreneur, partner, incubator and supplier of products and data services.
Collaboration is key
Digitalisation is a sector-wide and innovative process. Individual companies can hardly be expected to realise all the required fundamental innovations on their own. As an independent party, the Port Authority is happy to take its responsibility when it comes to accelerating digitalisation processes, engaging outside experts and forging 'coalitions of the willing'. Because collaboration is key when it comes to innovation. And the process can't be forced. However, you can create a conducive environment that increases the likelihood of innovation taking shape and aligning with real-life market needs. Among other things, the Port Authority is facilitating this development within an extensive innovation ecosystem where large multinationals and pioneering up-and-comers, researchers and entrepreneurs all come together in Rotterdam. Here, leading players from the port and maritime cluster and the logistics sector, major tech firms, knowledge institutes and start-ups work together on the co-creation of the solutions of tomorrow.
a cradle of innovation
Rotterdam is eminently suited to this role as innovation hotspot. The sheer scale of its port and industrial complex, local investment readiness, the proximity of world-class knowledge centres like Erasmus University Rotterdam, Delft University of Technology, SmartPort and RDM Campus and the existing intensive partnerships between the private sector, semi-public organisations, educational institutions and the government make Rotterdam the perfect testing ground for innovations in the field of digitalisation.
Innovation ecosystem
The likelihood of an innovative venture or concept succeeding increases when it can fall back on a solid innovation ecosystem that can boost new innovations and transitions. That is why the Port of Rotterdam Authority is committed to encouraging collaboration between a wide range of companies, investment funds, government agencies, knowledge institutes, test and prototyping centres and accelerator programmes. Together with the Municipality of Rotterdam, Deltalinqs and Rotterdam Partners, the Port Authority is facilitating the establishment of a unique innovation ecosystem in the port of Rotterdam that brings together major firms and ground-breaking start-ups, researchers and entrepreneurs. Here, leading players from the port and maritime cluster and the logistics sector, major tech firms, knowledge institutes and start-ups work together on the co-creation of the solutions of tomorrow.
Solid foundation
Of course, the current digitalisation process is hardly new to the port of Rotterdam or its Port Authority. In fact, over the past few years Rotterdam has laid a solid foundation for this transition with digital solutions like e.g. the Port Management Information System (HaMIS) and Portbase's Port Community System. They have allowed the Port Authority to amass a huge volume of digital data that are used in support of its day-to-day operations.
Core activities and increase logistics efficiency
Generally speaking, the Port of Rotterdam's digitalisation initiatives run along three different axes. While their boundaries are occasionally blurred, they are still distinct enough to list separately. To start, we have the projects that focus on the more effective management of the port and the port infrastructure – realising 'smarter' infrastructure, sites and buildings with the aid of sensors and data models.
Secondly, one of the Port Authority's core responsibilities is ensuring that shipping movements in the port area run smoothly and safely. The effective direction of this shipping process is of crucial importance to the Netherlands' vital infrastructure. This sets requirements in the area of cybersecurity and reliability, for example. But by standardising data, interpreting this information more effectively with the aid of algorithms and sharing this data with other port authorities and port users, we can also make shipping handling more predictable, more efficient and, as a result, even safer. When evaluating port calls, the Port Authority refers as far as possible to business rules to facilitate the decision-making process. Besides contributing to (uniformity) and transparency in decision-making, this also creates greater clarity for port users. For example, around 80% of the 230,000 port calls made by sea-going vessels are currently reviewed and settled in an automated process according to the principles and points of departure of 'management by exception'.
The third axis centres on raising efficiency in logistics processes with the aim of further improving Rotterdam's competitive position. We achieve this by strengthening chains that run to and from Rotterdam, further optimising processes in the port area and keeping a close eye on future trends in technology and platforms. The Port Authority has developed a portfolio of applications that measurably improve the efficiency of the chain, and we are entering into international partnerships geared towards further improving the chains that run through our port. On the one hand, these partnerships focus on the standardisation of data sets; on the other, they are intended to promote the implementation beyond Rotterdam's port area of applications that can further improve our trade lanes. A concrete example of our activities in this field is the establishment of PortXchange BV, which encourages the implementation of applications developed by the Port Authority across the globe.
What visitors think of us