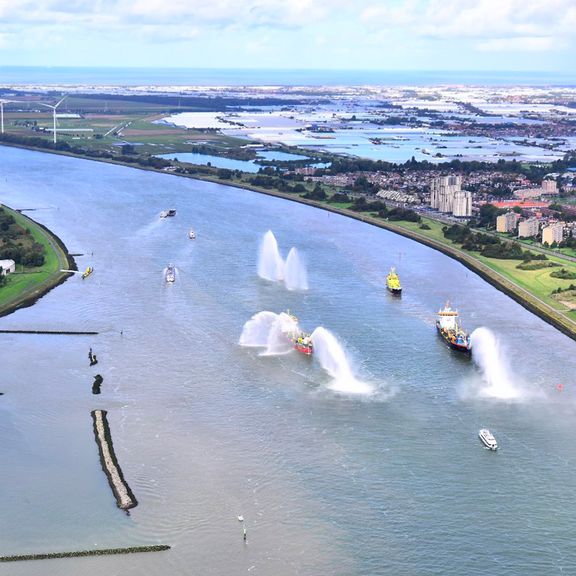 Deepening of Nieuwe Waterweg
Each year more than 15,000 sea-going vessels pass along the Nieuwe Waterweg. However, the river is too shallow for some vessels. To create optimum accessibility to the port, the Nieuwe Waterweg and the Botlek needed to be deepened by one and a half metres along a distance of twenty-five kilometres.
Better accessibility
The Nieuwe Waterweg and the Botlek are being deepened. Developments in shipping require this deepening. The key developments are the use of larger ships and the growth of long-distance freight transport. Some ships are currently unable to reach the berth in the Botlek when fully laden. Part of the cargo has to be unloaded onto inland vessels or smaller sea-going vessels in Europoort before they can sail any further. This results in delays and additional costs.
Making the Botlek more accessible to ships with a greater draught will increase the economic opportunities and strengthen the port's position. Thanks to the deepening, ships with a draught of up to 15 metres (Aframax and the new Panamax ships) will be able to reach the Botlek.
Vital port
To maintain the vitality of the Rotterdam port industry, investment in its conservation and renewal is essential. In the long term, the port will need to be prepared for the transition from a linear, fossil fuel-based economy to a circular biofuel-based economy. An economy in which materials and raw materials from vegetable-based origins are created and renewable organic sources are recycled for as long as possible whilst maintaining their quality. The Botlek is able to play a key role in this transition.
Directorate-General for Public Works and Water Management and the Port of Rotterdam Authority have joined forces in the deepening of the Nieuwe Waterweg and the Botlek. Together, they are working on optimum accessibility to the Rotterdam port area, sustainable development of the port and raising the quality level of the waterway network.