Quay wall construction Amaliahaven
02 December 2023
Container volumes in Rotterdam are expected to continue to grow strongly in the coming years. To further strengthen its leading position as Europe's largest container port, the Port of Rotterdam Authority is investing in the further expansion of the Prinses Amaliahaven located on Maasvlakte II.
Container terminals APM Terminals and RWG are active in the Prinses Amaliahaven, with 1,500 and 1,700 metres of quay respectively. The construction of new deep sea and inland shipping quays will enable these companies to further develop the other sites around this port.
The potential additional flow of containers that the growth of the terminals could bring is approximately 4 million TEU. This is a capacity increase of about 25% compared to the annual total in 2020 (14.3 million TEU).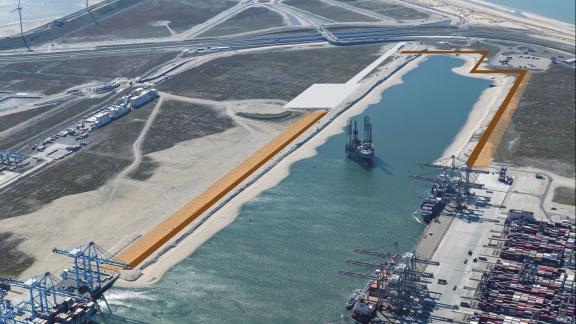 The Port of Rotterdam Authority awarded the project to the construction consortium of HOCHTIEF, Ballast Nedam and Van Oord, after going through a European tendering procedure.
The work started in spring 2021 and will take about 2.5 years.
What will be built?
The new development will be constructed on both sides of the approximately 2.5 km long port.
In total, it concerns:
1,825 metres of deep sea quay, with a retaining height of 29 metres.
160 meters of inland shipping quay
360 metres of revetment
dredging the quays to a depth of more than 20 metres below New Amsterdam Water Level (NAP)
a back crane track, founded on piles, will be constructed over a length of approximately 1.8 kilometres, over which the rear legs of the future container cranes will pass
With this project, all but 725 metres of the port basin put into operation in 2015 will be enclosed.
Sustainable construction
Container quay construction requires sustainable, smart choices so we can minimise the impact on the environment. Sustainable construction is central during the implementation of the entire project.
By looking at the project from different disciplines and together with all partners, various solutions were worked out in order to achieve the most sustainable and efficient way of working.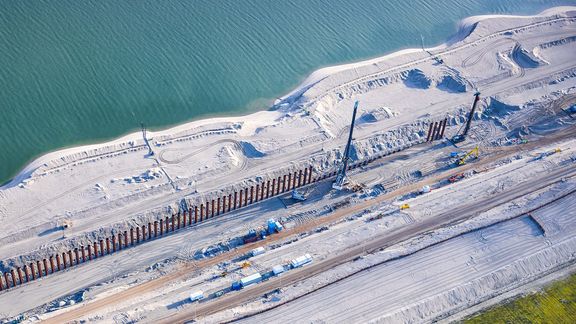 Examples of sustainable solutions during construction:
the quays will be equipped with a wide range of sensors to monitor forces and any deformations;
so-called ECOncrete blocks will be installed at two locations. These act as artificial vertical reefs to stimulate underwater biodiversity;
special attention is given to reducing emissions during construction. The use of equipment running on Hydrotreated Vegetable Oil (HVO)* and electric construction equipment greatly reduces harmful emissions during work.
nuisance for the local residents is limited to the extent possible by transporting building materials largely over water. This also ensures that the operational processes of the container terminals are affected as little as possible during the implementation of the project.