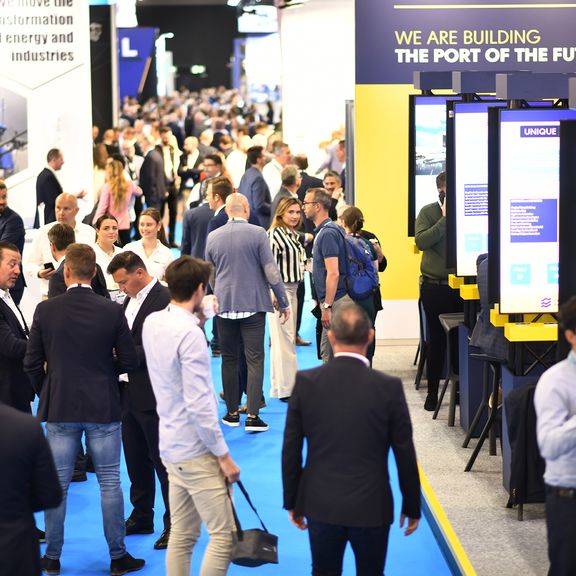 Breakbulk Europe 2024
09 March 2021
Date
21 May - 23 May 2024
Breakbulk Europe 2024: back in Rotterdam for the third time
After the success of Breakbulk Europe 2023, the next edition of Breakbulk Europe will be held on 21-23 May 2024 in Rotterdam Ahoy. The Rotterdam Brand Alliance, together with trade fair organiser Hyve, has already started on the preparations for the upcoming edition.
The alliance is composed of the Municipality of Rotterdam, the Rotterdam Port Promotion Council, Rotterdam Ahoy, Rotterdam Partners and the Port of Rotterdam Authority.
In 2023, around 30 companies from the Rotterdam breakbulk community presented themselves at the Port of Rotterdam stand in Hall 2. This edition attracted a record number of professionals, with more than 10,000 visitors. The Breakbulk Boulevard, a unique networking event in the heart of Rotterdam at the Schiedamse Vest, also welcomed around 1,400 visitors.
The largest trade fair
Breakbulk Europe is the largest trade fair for project cargo and the breakbulk industry and will once again draw thousands of national and international people to Rotterdam. It affirms Rotterdam's status as the maritime capital of Europe. "Breakbulk Europe is an excellent fit with our ambition to become the number one breakbulk port in Europe and provides a great boost to breakbulk companies in the port of Rotterdam," according to director Breakbulk Danny Levenswaard of the Port of Rotterdam Authority.
The bigger the better. After all, our motto is Bigger. Better. Breakbulk.
Danny Levenswaard
,
Director Breakbulk
,
Port of Rotterdam Authority
More than 10,000 professionals
In 2024, national and international visitors are welcome once again in Rotterdam Ahoy. The trade fair will be held in six large interconnected exhibit halls. Trade fair organiser Hyve expects the 2024 edition to draw an even higher number of visitors and exhibitors. More information can be found here: The Largest Project Cargo & Breakbulk Event | Breakbulk Europe
Publications
Breakbulk Magazine with several articles written by our colleagues.
Rotterdam Visitors Guide with tips from locals and colleagues.