Annual Report 2022: Making room for transition
09 March 2023
The Annual Report 2022 of the Port of Rotterdam Authority has been published today. During the past year, the world was confronted with the fateful war in Ukraine. The war and the sanctions against Russia led to unprecedented shifts in goods flows, high energy prices and consequently, high inflation figures and a weakening economy.
Despite the challenging circumstances, Rotterdam businesses and all service providers responded quickly and effectively to the changes.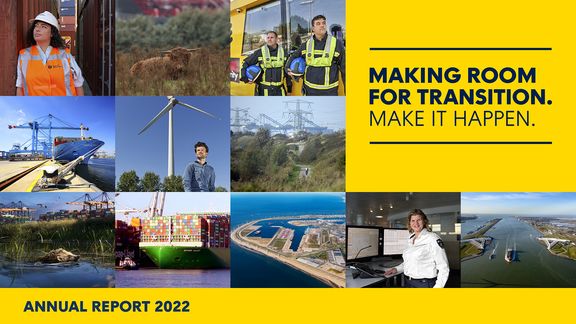 The total throughput in Rotterdam was almost the same as last year at 467.4 million tonnes. The Port Authority also had a good 2022 in financial terms. The net result was unchanged, at €247.2 million. The strong financial result means we can continue to invest on a broad front in the port and make the transition possible. The Port Authority invested a total of €257.0 million in the port last year, over €30 million more than in 2021.
Because of the major changes taking place in the port, we have chosen the title 'Making room for transition'. The port of Rotterdam is fast becoming a sustainable port and industrial area. The Port of Rotterdam Authority has adopted the United Nations Sustainable Development Goals as a guideline. The annual report provides an insight into the performance and results of the Port Authority in 2022.