Sustainability
Bee paradise in the port area
16 July 2018
The Port of Rotterdam Authority has had a swarm of bees placed on the Maasvlakte in the verge next to the Stenen Baakplein. In this section of the Honey Highway, ten thousand bees will soon be collecting pollen and nectar. The goal of this initiative is the conservation of the original Dutch honey bee by reintroducing it to this region.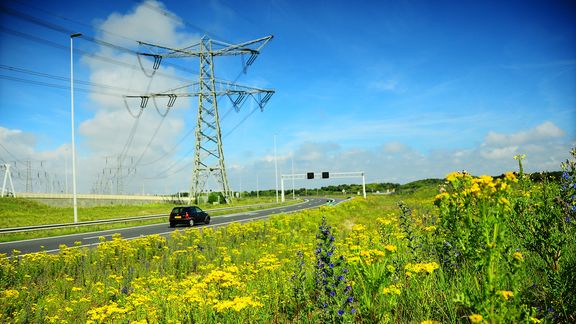 The Honey Highway is now in full bloom. The flowers - planted last year by primary school children from Brielle - can be admired by motorists driving past on the A15. If they look in the other direction, they can enjoy a view of a flower bed several kilometres long. The flower bed features flowers such as the Evening Primrose and Viper's Bugloss that sprouted up spontaneously along the pipeline corridors. "This sea of flowers is in line with our policy for sustainable development of the port. We specifically focus on and create extra room for bees," said Ronald Paul, COO of the Port of Rotterdam Authority.
A first
This is the first time the Port Authority has placed a bee colony in the port area. Beekeeper Anne Bac from Oostvoorne will be responsible for taking care of the bees. She will do this using a biodynamic approach to beekeeping that will result in a hardy bee species. In July she will be giving tours to people from Oostvoorne and Brielle and to employees of port-based businesses. "Something that is both necessary and fun," says Deborah Post, the initiator of the Honey Highway. "The 5,000 square metres of perennial flowers at the Stenen Baakplein and the flowering shrubs in the Geuzenbos should provide sufficient pollen and nectar for the bees to comfortably make it through the winter. The bees are able to fly up to seven kilometres so they can also reach Oostvoorne."
Port versus biodiversity
The Honey Highway was launched as an initiative of the Port Authority in cooperation with Deborah. "While the bees may be minuscule creatures in the vastness of the port area with its enormous ships and stacks of containers, they are also extremely important," says Jan Putters, Asset Manager at the Port of Rotterdam Authority.
Honey Highway
Even though there is abundant green rye grass for dairy production in the Netherlands, there aren't nearly enough flowers. Honey Highway is an initiative of biodynamic beekeeper Deborah Post. She wants to take steps for the conservation of bees, bumblebees and butterflies and rapidly reintroduce them to the Netherlands on a large scale. After all, people need bees to pollinate vegetables and fruits. This means bees are critical to our food chain. A permanent paradise for bees has been created by sowing 44 different perennial native species of flower seeds along the verges of motorways, railway tracks and provincial roads, and dikes.
Jac Thijsse and Jan Wolkers thought the common Viper's Bugloss with its beautiful flower stems with laden ultramarine blue blossoms to be one of our most exquisite wild plants.