An accessible port
Brexit: Port of Rotterdam starts leafleting campaign at ferry-terminals
19 March 2019
On Tuesday 19 March, the Port of Rotterdam Authority and the ferry terminals started providing truck drivers with information leaflets about Brexit.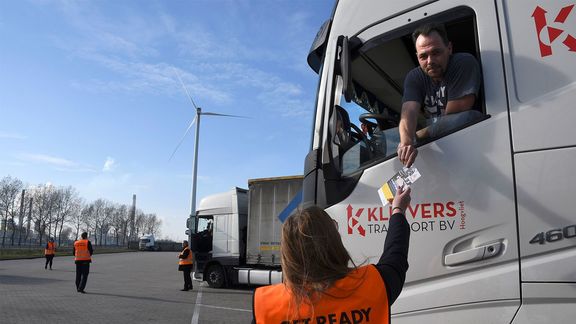 The leaflet mainly covers the formalities that must be in order when transporting freight to England. This concerns (1) the booking at the ferry company; (2) the customs declaration of the freight being transported and (3) registering the customs documentation via PortBase, the communication system used by the Ports of Rotterdam and Amsterdam.
The leaflet also shows where temporary parking areas have been set up near the terminals. The Port Authority also issued the express warning: only start the journey after your customs declaration has been made and after the customs documentation has been registered. This leafleting took place at four ferry terminals in five locations. Leaflets were also issued in twelve other locations (restaurants and truck parking areas) in the port. In total, the Port Authority has ordered 20,000 leaflets in eight languages.
The leafleting is part of a range of activities started by the Port Authority to minimise the inconvenience of Brexit in Rotterdam as far as possible. The freight flows between the United Kingdom and the Port of Rotterdam are important. They cover approximately ten per cent of the port and industrial area's throughput.
Flyer for truckdrivers
Important information when formalities are not in order. Available in Dutch, English, German, Turkisch, Russian, Hungarian, Romanian, Polish.