An accessible port
Customs excited about Rotterdam Container Exchange Route
30 May 2023
By the end of 2023, the first transports will take place over the Container Exchange Route on Maasvlakte. Peter van Buijtenen, Regional Director of Customs for the port of Rotterdam, is looking forward to it. "Not only is it a major step forward in the fight against drug trafficking and subversion, it also saves us and the companies a lot of work."
The Container Exchange Route (CER) has quite a long history, but this year the 17-kilometre stretch will finally be put into operation. The road network connects a large part of the terminals, depots, distribution centres and the State Inspection Terminal on Maasvlakte. What is special about it is that it is a 'closed' transport route; in other words, it is not open to the public. Only transport companies with an Authorised Economic Operator (AEO) licence issued by Customs can use it to transport containers from one location to another.
Safeguarding the identity of cargo
"That aspect is important to us", Peter van Buijtenen explains. "With the AEO licence, companies demonstrate that they want to be part of a secure logistics chain. Combined with the fact that the CER is a closed network, this means a boost to the integrity and security of the port. Partly due to fencing and (future) camera surveillance, we will be able guarantee that the containers have not been on public roads. This means that nothing can be added to, swapped or removed from the cargo. Thanks to the CER, we can guarantee cargo identity."
Customs recently signed the connection agreement for the CER. The added value of the Exchange Route is in containers being exchanged between terminals. They arrive, for example, at terminal A by sea-going vessel and must be transported by train to Germany from terminal B. The transport from terminal A to terminal B can then take place via the CER. This also applies to containers that must be transported to the State Inspection Terminal for inspection. In principle, these will all be transported via the CER. Only under exceptional circumstances are these containers still allowed on public roads.
Van Buijtenen: "Both transports between terminals and those to and from the State Inspection Terminal will therefore be safe and incorruptible routes. In addition, it saves an awful lot of time in terms of administration. Since the CER is a closed network, the container transported from one terminal to another via the new 'internal lane' will no longer leave customs supervision, so administration can be largely omitted. That makes it easier... for us, but especially for the business community involved."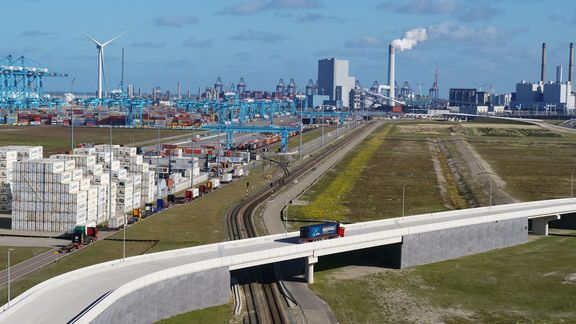 Taking a hard line
Boudewijn Siemons Director of Infrastructure & Maritime Affairs (COO) at the Port of Rotterdam Authority, fully concurs. "Container transport via the CER is more efficient and therefore more sustainable. But at least as importantly, this will help us take a hard line against drug crime and subversion. Together with Customs, we have also started a process to explore what other opportunities the CER can offer to further improve the integrity of the port of Rotterdam."
This is partly in view of the expected increase in container transhipment at the port of Rotterdam. Siemons: "Last year, as many as almost 14.5 million containers passed through our port. We have calculated that up to 8 million TEU of additional capacity will be needed in Rotterdam by 2035. We want to facilitate this huge flow of containers efficiently, safely and sustainably. The CER plays an important role in future-proofing the container cluster in the port of Rotterdam."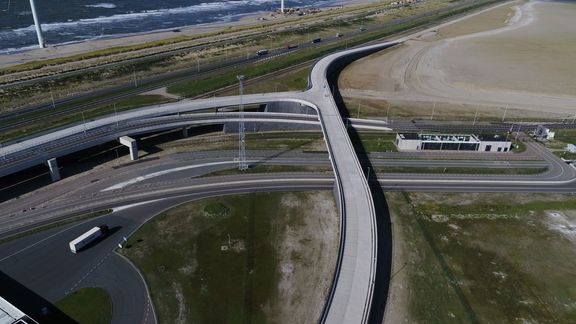 Joint responsibility
The first leading companies have already indicated they will use the CER. In addition to the connection agreement with Customs, Rotterdam World Gateway (RWG), the Delta terminal of Hutchison Ports ECT Rotterdam (ECT) and Kramer Group were the first market parties to join. "As far as we are concerned, the more companies participate, the better it is", Van Buijtenen said. "That will make it more efficient for everyone. Furthermore, we all also have a shared responsibility for the integrity of our port."