Energy transition
Hydrogen road transport gets off to a good start
08 April 2022
After the introduction of HyTrucks in the spring of 2020 more and more parties have expressed interest in joining this initiative and working together on freight transport based on hydrogen. The aim to have at least 1,000 trucks in the Netherlands, Belgium and West Germany driving on hydrogen by 2025.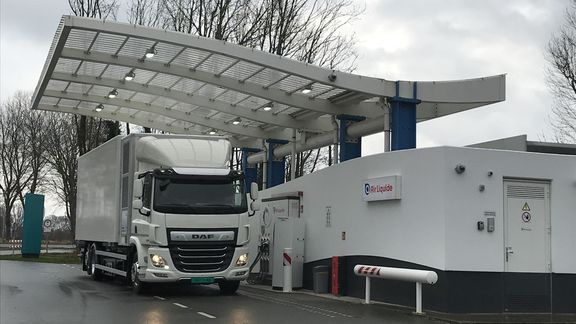 The initiative of Air Liquide and the Port of Rotterdam has now been expanded to include 60 parties in three countries and is being implemented in close collaboration with the ports of Rotterdam, Antwerp and Duisburg. It concerns hydrogen suppliers, truck manufacturers, refuelling station operators, forwarders and shippers. Other parties are still applying to join.
Zero-emissions transport
Along with electrification and other existing alternatives, clean hydrogen is needed in the energy mix to enable heavy road haulage to be emissions-free. With the developments in trucks and the network, it is possible to go long distances with a truck driving on hydrogen. This will make achieving the European climate goals and implementing and enforcing zero emissions in cities feasible. The transition to completely green hydrogen is an important precondition for this, which is being worked on jointly through policy and governmental support.
HyTrucks
HyTrucks is one of Europe's largest projects aimed at developing hydrogen-powered trucks and the associated infrastructure. The project leads to improved air quality and a reduction in CO2 emissions of an estimated 100,000 tons, the equivalent of 110 million truck-kilometres.