Energy transition
King visits port of Rotterdam in the context of hydrogen
12 April 2022
His Majesty the King paid a working visit to the port of Rotterdam on Tuesday morning, 12 April. The visit was centred on the theme of hydrogen.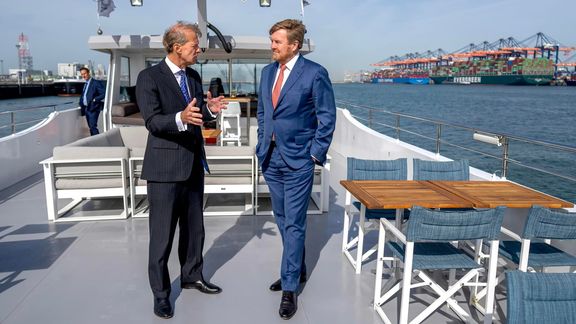 About three times the total energy consumption of the Netherlands enters the port of Rotterdam every year. This is the equivalent of thirteen percent of the total energy demand of the European Union. As the energy port of Northwest Europe, Rotterdam has an ambitious sustainability strategy in place, in which electrification and hydrogen play a major role. The focus is on the production of green hydrogen, hydrogen based on residual gases, infrastructure for the transport of hydrogen via pipelines, import, and application in industry and transport. During his visit, King Willem-Alexander was given an explanation of the hydrogen ambitions of the port of Rotterdam.
On a boat trip along the Maasvlakte, the King spoke with Allard Castelein (CEO of the Port of Rotterdam Authority), Randolf Weterings (Programme Manager Electrification & Hydrogen) and Alice Krekt (Climate Programme Director at Deltalinqs), about the hydrogen developments in the port of Rotterdam. On the basis of developments in various projects, representatives of a number of companies explained the hydrogen value chain: from import and export to hydrogen production in the port, the development of demand in the industry, and the transport of hydrogen, to the construction of hydrogen pipelines (the so-called 'H2-backbone' through the port and the Delta corridor to North Rhine-Westphalia via Chemelot). ThyssenKrupp Steel representatives provided some further information on hydrogen demand in Germany.
After the boat trip, the King was taken to Neste, where Bart Leenders, Vice-President Global Production, explained the way in which Neste works on sustainability, and the role of hydrogen in this process. Finally, representatives of several companies in the port shared their challenges concerning hydrogen with the King.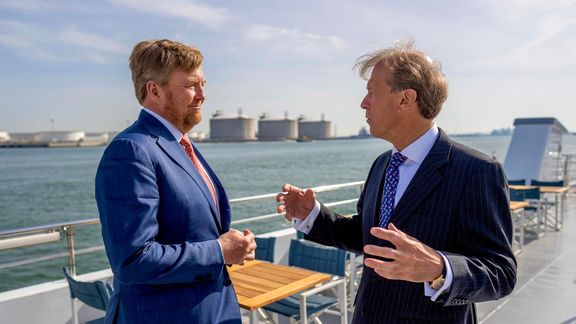 King Willem-Alexander had previously opened the first substantial test plant for green hydrogen Hystock (2019) and had spoken at the Wind Meets Gas congress (2021) about the relevance of hydrogen for the Netherlands and the energy transition. The hydrogen theme was also discussed during several visits in the Netherlands and abroad.