Energy transition
Early steps in hydrogen ecosystem for Netherlands and Germany on show during visit from King Willem-Alexander
15 November 2023
Reading time: 2 minutes
Hydrogen from renewable sources is set to play a major role for industry by replacing fossil-based energy and feedstocks. The hydrogen ecosystem that is currently under development was showcased during King Willem-Alexander's visit to duisport, Germany's largest inland port on November 14th. There also was a demonstration of how the transportation of low-emission hydrogen is already possible.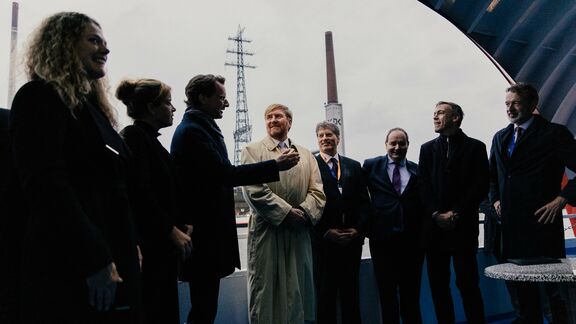 Collaboration with partners throughout the chain is crucial to enable industry's transition from fossil to renewable energy sources. The king saw three initiatives during his visit.
Hydrogen as an energy carrier for emission-free inland shipping: RH2INE/Condor H2
The RH2INE network connects regional authorities and market players in order to make inland waterway transport on the Rotterdam-Duisburg-Basel line emission-free with hydrogen. Using this network, the Port of Rotterdam Authority and the Provincial Authority of Zuid-Holland has launched the Condor-H2 project with more than 40 partners, including duisport. The aim is to eliminate barriers and to make hydrogen transportation operationally, technically and financially feasible. The project focuses on standardisation, regulation and training, and also on encouraging investment.
Hydrogen through pipelines: the Delta Rhine Corridor
The Delta Rhine Corridor is a bundle of underground pipelines and cables that is being developed in the pipeline strip from Rotterdam, through Moerdijk and Venlo to southern Limburg, and onward to Germany. This includes the transport of hydrogen (including green hydrogen) and CO2 for underground storage. The Port of Rotterdam Authority initiated the Delta Rhine Corridor in 2021 to maintain its current position as an energy port for industry in the Netherlands and the hinterland, including renewable fuels and feedstocks such as green hydrogen. The project is now receiving support from an international business consortium and backing from the Dutch and German governments.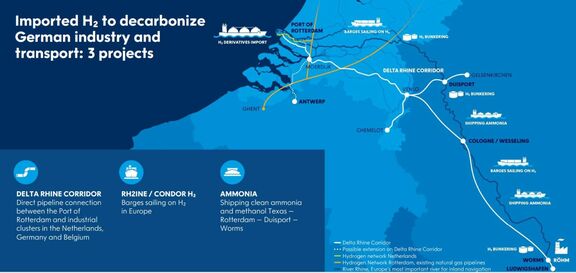 Imports of hydrogen and throughput to the hinterland is already possible: OCI-Röhm-duisport-Port of Rotterdam Pilot Project
The pilot project shows that transporting low-carbon hydrogen to the hinterland is already possible. An inland vessel carrying the hydrogen carrier ammonia (made from bio-feedstocks in this case) arrived in duisport. The ammonia left OCI in Texas and was transferred to the inland vessel at the OCI terminal in the port of Rotterdam. From duisport, it will be taken further to the Röhm company, which procures this product as a feedstock for the production of plexiglass. The inland shipping system will continue to play a role – alongside large-scale pipelines such as the Delta Rhine Corridor – in fine-meshed transport to customers. This pilot project therefore offers a glimpse into a future where the transportation of new zero- or low-carbon energy will be standard practice.