'In the supply chain of the future, sustainability and digitalisation play an essential role'
02 March 2023
Broekman Logistics offers chemical companies worldwide an end-to-end supply chain. Successfully. Just recently, several major players have turned to the full-service provider, which is seeing further growth in its client base as a result. In the supply chain of the future, sustainability and digitalisation will play an essential role for Broekman.
With three divisions – breakbulk terminals, warehousing & distribution and forwarding & shipping – Broekman Logistics specialises in processing, storing and transporting complex, heavy or hazardous goods as efficiently as possible. Broekman has warehouses for the storage of the third group in strategic locations in the hinterland and on the Maasvlakte in Rotterdam. "We also perform VAS activities such as drumming, filling, kitting and (re)packaging in those warehouses. In addition, we have our own terminals in Rotterdam where we store and process chemicals in containers for our clients. With our seventeen offices in India, we coordinate imports from Asia via Rotterdam and onwards into Europe," says Ron Kuijpers, director of business development at Broekman Logistics.
Stricter regulations
The service provider is prospering. Excellent revenue growth has been achieved in recent years. And the outlook is good. But the road ahead is still bumpy. "Like everyone else, we are also looking at shortages in the labour market," Kuijpers continues. "It is becoming more difficult to recruit and retain skilled and motivated staff. With initiatives such as training and young professional programmes for management positions, we have managed to tackle that problem so far. But we will have to stay creative in the future."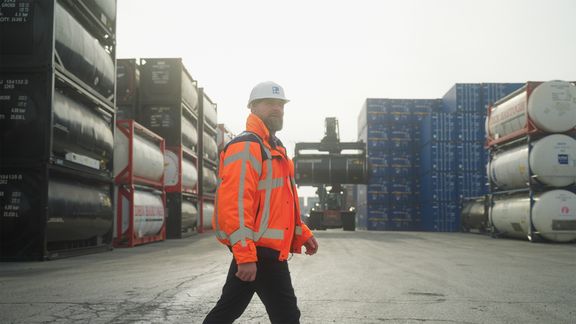 Kuijpers believes that the biggest challenge in the chemical sector is the available storage capacity. Or rather, the lack of that capacity: "Legislation and regulations are getting stricter every year. As such, that's a good development. But stricter regulations mean that smaller players are moving out and they are no longer providing specialist storage for hazardous materials and chemicals. Supply is under pressure, particularly because demand is growing."
Logical decision
Despite that scarcity, the service provider has been successful in contracting some big names. "We are proud of that. It demonstrates once again that we are on the right track," says Kuijpers. Since the Brexit, he has seen a lot more chemical companies opting for Rotterdam. The director of business development sees that as a logical decision. "Rotterdam has the densest deepsea and shortsea network of any European seaport. Indeed, in services to Asia – the main market for containerised chemicals – Rotterdam leads the way. And thanks to multimodal connections, including inland shipping and rail, access to the main chemical clusters in the European hinterland is also excellent and sustainable."
Investing in sustainability
Sustainability is a high priority at Broekman Logistics. "We may not be leading the field but we are certainly doing our part," Kuijpers points out. "We started working with the Ecovadis methodology three years ago. Now we are in the top 11 percent, leaving 89 percent of logistical service providers behind."
The Broekman Logistics terminals use shore power and solar panels. The cranes at the terminals are also being replaced in stages with cleaner, electrically powered alternatives.
"In addition, where possible, we advise our clients about the options for more sustainable connections to the hinterland," Kuijpers continues. "By providing a clear picture of the total costs, lead times, carbon emissions and other crucial data for each modality, we allow them to choose the most appropriate service for themselves."
Transparent data
Digitalisation plays an important role in making those data transparent. "We see technology and digitalisation as ways of retrieving valuable data and transforming it into practical information. That adds value, transparency and intelligence to the supply chain," Kuijpers says.
In this process, Broekman Logistics opts for uniformity as much as possible. "As we speak, are working on the implementation of a new WMS and TMS for all our locations, including those in the hinterland. This will allow us to represent the interests and wishes of our clients even better in the future," Kuijpers concludes.